2007 Playoffs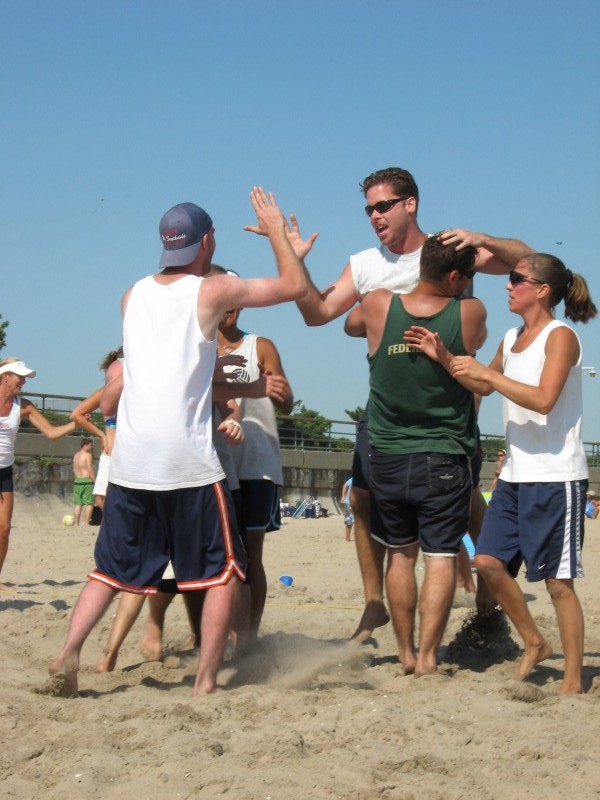 Federations celebrate their championship run.
Pages of pictures!
Playoff Pictures 1 Playoff Pictures 2 Playoff Pictures 3 Playoff Pictures 4 Federation vs. Babes pictures
Pictures from the BHYC party added to week 11.
RBVL Crowns 6 Champs
By Joe McGivney

The Rockaway Beach Volleyball League concluded its 18th season on Saturday with an entire day of playoffs, crowning six different division champions by day's end. The mood was festive but bittersweet as the RBVL ended the 2007 season and the joy of another terrific year was offset by the sadness that many friends would go their separate ways over the next 10 months, not seeing each other quite so regularly anymore. More than a few people were verklempt! Commissioner Patty Moule outdid herself again although she selflessly deflected credit to her committee of Bugsy, Rocky, Steve, Denise, John and Joe for a job well done. Thank you all for making the season a great success and making Saturday one of he RBVL's most spectacular playoff days ever. As always, the exciting games, food and music help but you are what make the day so special. Your camaraderie and friendship elevate the RBVL to heights no other league enjoys.
DJ Tricia Tubridy (Go Big Red!) rocked the finals with the sounds of summer and played more requests than you could shake a fist at. She peppered the music with scores and updates from all of the courts to keep the fans informed and she didn't play the last song until long after darkness fell. She was even surprised to find out that the RBVL has some "real players" in it. If you liked what you heard and are in need of a DJ drop the Tubridy's an e-mail at timtubridy@hotmail.com. Tell them the RBVL sent you. Players also feasted on delicious sandwiches, bagel wheels, wraps, salad and fruit all day while the action took place at Riis Park on a day without clouds or wind and in a very comfortable 81-degree temperature. Many exclaimed, "It's the best day of the summer!" Much different than 2005's 99 degree debacle!
In the Ocean division, the top players faced off, beginning with Sullivan & Galleshaw's easy 3-0 victory over the ancient warriors of Abbracciamento's (nee Casino Towing). Rocky's bid to tire out Tommy D. by making him carry his heavy cooler two miles failed miserably. Tommy noted that the old guys better start looking for accessories to go with their Bay Blue Wave uniforms next year. S&G could not sustain their momentum and dropped their semi-final 1-3 to Freedhand's Yankees. The Sugar Bowl upset Fillmore Insurance 3-0 and then eliminated the 2nd place team, Mark's Maintenance 3-0 to unexpectedly reach the finals. Their 2nd consecutive Cinderella run ended when league powerhouse, Freedhand's, decisively won all three games 16-17-12 to gain the championship of the top division once again. It was clear that the Sugar Bowl was finally "building up" and not breaking down. When it counts! Was that Jim Sluyk at JFK airport with his Musical Chairs trophy, embarking on a recruiting trip overseas? Coach set a record for most out-of-rotation calls in a match and nearly had Sean O'Rourke removed from Gateway even though he was only a spectator. (Although some fun was had at Coach's expense, no one ever said the calls were incorrect.) Did anyone else notice that Coach gets very talkative after consuming a few odorless, tasteless beverages mixed with fruit juice?

The Wave Division: The fireworks began early with 4 of 7 games going to OT in the first round. The Big Mahooshkas swept the Ozone Layers with two games needing extra time while Coppersmith's edged the Mighty Boosh in four. Coppersmith's repeated that feat against Jameson's as division leader, the Flip-Cup All-Stars (aka The Sica Youths), dispatched the pesky Mahooskas 21-10 in the fourth game. The All-Stars played like their name and continued their season-long dominance, winning their second consecutive title. The Flip-Cup young guns were overheard telling former child prodigy, Scotty Hendricks, who the new top players on the beach are. (Since this was heard very late at Jameson's alcohol may have played a part in their boasts.) The most commonly asked questions all day were, "What's a Mahooshka?" and "What's a Mighty Boosh?" Both captains should be ready to explain at the awards dinner.
The Beach Division: Four venerable squads went out in the first round when Connolly's lost in the fifth game to Healy's Ratpack 21-14. They joined the Belle Harbor Posse, NW IRSH CRCL and the Sunrise Assisted Living Sharks, who made their usual early playoff exit. (Though not from the beach.) Third seed, Federation took out BHYC to advance against the second seed, Bay House Babes, who finished off archrival and top seed, Healy's Ratpack 3-1. That set up the most dramatic final of the entire tournament. The Babes (and Muscles) jumped on top quickly 21-8 but the Federation bounced back in game two 21-15. The teams split the next two games and faced a deciding game 5 in which the Federation prevailed 21-18, setting off a raucous celebration. True to their names, the Bay House Babes finished in egalitarian style. They may be the only team in RBVL history to make it that far with 3 men and 3 women on the court all day! They actually played their whole season that way. What a debut for this new team of both old and new players. Watch out, Conolly's and Healy's! The Babes ask, "Keith Who? He might have to look for another team." (Just kidding!)

The Boardwalk Division: Only mild upsets sprinkled the first round of this evenly matched division. One Win Away, Sand Spikers, the Wharf Rats and the Cheese Fries all advanced to the semi-finals, knocking out the Beach House, the Odd Couples, the Coral Reefers and Boarders. The Sand Spikers then dispatched One Win Away while the Wharf Rats sent the Cheese Fries home. In an extremely tight final, the Wharf Rats came out on top 21-9 in the fifth game, a rare championship for a first-year team. Good on you, mates.

Opposite of winners.

The Sun Division: Four of the five top teams advanced to the semi-finals, knocking out the Jameson's Transplants, the Pier 92 Piranha's, Kerry Hills and Harbor Light. In round two, the Wave and the Blarney Castle prevailed over the Sands Point PT and the Brooklyn Transplants, respectively, setting up an exiting final. Although it was a sweep, the scores of 21-19, 22-20 and 21-18 indicated the match could have gone either way. However, it did go the way of the Blarney Castle, who were lucky to escape alive. Long after the balls stopped bouncing the Transplants (all of them) were serving mudslides (rated 10.0 on the Taste Scale) and other slushy drinks to anyone who stopped by. And if you stayed around long enough you were invited to have some hot pizza, which they had delivered right to Riis Park. Nobody does it better than these guys and gals.

The Moon Division went pretty much according to form as well. Regular season champ, A Night Out, Team Margarita, McMahon's and Robin Shapiro Realty moved on with victories in round one, each match going four games. The closest and most controversial match saw Last Call edged out in OT of the last game after a disputed referee's decision at 18-18 of the third game. In the second round, Team Margarita went the distance to slip by McMahon's 21-18 while A Night Out had an easy time with Robin Shapiro. The top two regular season teams then waged war once again with Team Margarita emerging victorious in a 12-16-19 sweep. Newly reinstated manager, Tommy "We will give them until 11 o'clock" Loc, watched Simon Says Sea Bar fall out of the tournament to the eventual champs. After the pressure of competitive volleyball was over, Simon Says played teams for a case of beer and compiled a 9-4 record, winning booty from Suns of Beaches and Desert Island (yet again)! It was a good way to end a fun season of volleyball. Last Call soared high this season but flew too close to the sun in the playoffs. The ladies squad played well all season. Thanks Captain, Gaby, Surfer Girl, Kate, Bombshell, Zsa Zsa, Janice, Nadine, and Spike. Although they were recruited for their beauty they always brought their "A" game. The men's squad was led by MVP Big Brown who was backed up by the likes of Mad Dog Ryan, The Mauler, Air Steinberg, McGyver, Captain America, Dan the Man, Hammy the Sandwich and Big Bad Bob. A special thanks goes to the officer in charge of laundry and morale, Greg the Coors Cowboy who promises the ladies chaps for next year. Final volleyball rule # 26 - a ball that is out might be in, unless it's out, and then no call is final. Remember, a season does not require a final victory to be a championship season. You haven't heard the last of Last Call.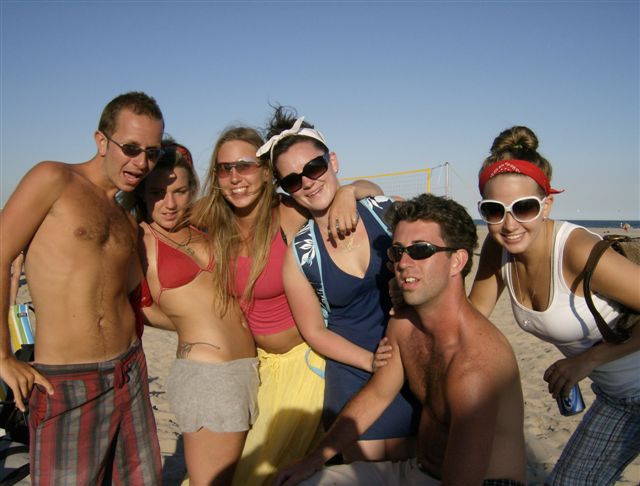 Six teams did not make the playoffs and all were invited to take part in a round robin tournament just for the fun of it. The Lobster House and bhyc.com showed up, played their hearts out and had a great time. Although the Lobster House won 3-2, I have a sneaky suspicion they are both in line to collect a prize at the awards dinner. Skipper Dan Collins thanks his entire www.bhyc.com unit for a fun-filled, winning attitude summer. And guess what, every Wednesday the cooler was emptied! Thanks to Billy "Just Set The Damn Spike For Me" Collins, who filmed every game. Now that's entertainment!

Let's recap a few of the things we learned on Saturday. Murph initiated the Perimeter of Ignominy (POI) for all of the teams that failed to live up to their competitive expectations. Its ever-expanding circumference captured Steve from Connolly's, who put up a good, but unsuccessful fight in the first round; Rocky and Joe, who put up a bad, unsuccessful fight; Stevie and John from the Ozone Layers who exited even five minutes earlier than Rocky and Joe and finally, TBG, Cement Shoes and Bugsy who were the first to enter the POI a week ago Wednesday when they did not qualify for the post-season. Dickie Flanagan still carries an emergency back up cooler and a super secret back up to the back up wherever he goes in the summer. Only this time, they are all on ice. This year he added an XM Satellite radio to play tunes after the DJ went home. It looked like Bobby Fash had lost it when he showed up sporting a goatee, straw hat and pink outfit with a bird in his hat until it was pointed out Bobby was wearing a pink shirt not a pink chiffon evening gown and he did not have a pigeon in his hat. It was a clear case of mistaken identity. Speaking of the guy wearing the evening gowns, where does he store them at the beach and where is his changing room? When Smitty was asked to get in a picture with his teammates he angrily replied, "I ain't no poser!" But several teammates distinctly remember him posing for JC Penney in his BVD's in another lifetime.

Commissioner Patty would like to thank all who helped us on "Playoff Saturday." It can be a pretty stressful day at times. RBVL League Officials work very hard and try not to ask for help from RBVL players who are preparing to play ball but it's nice to know a few people were there when we needed them. Thanks again to Mary Whelan for getting those fantastic RBVL signs! What a nice touch! Thank you, Eileen Bledsoe for collecting those final score sheets. Thanks to all of our photographers. You did a wonderful job and your work will be shown on the RBVL website shortly. You may have seen Pat Quinn from the AVP at Riis Park on Saturday. Pat was promoting this week's pro tournament, which is being held in Coney Island on Friday 8/24, Saturday 8/25 and Sunday 8/26.

The RBVL Awards Dinner will be held at the Knights of Columbus @ 330 Beach 90th St. on Friday, 9/14 from 7:30 PM to 12:30 AM. The cost is about $55 and includes an open bar, bottled beer (Corona, Bud, Coors Light, Heineken and Amstel Light) and hot food with music by a DJ. Captains are collecting money as we speak and the first 200 people will be confirmed. In the past we have never had to turn anyone away but we came very close last year. With another expansion this season, the dinner promises to be booked solid. Reserve your tables early and get your money in early. If you have any questions or want to secure an entire table, call Bugsy at 917-386-7711 or Denise at 347-866-4570 or Rocky at 718-338-3906 x229. Continue to check our website (www.rbvl.com) for photos and stories in the upcoming weeks. If you have any pictures you'd like to have posted, send them to sica@rbvl.com. We expect to add photos from the playoffs as they come in.

We won't see you on the beach next week – the season is over! (As Stevie Kearns would say, "EOS - End Of Story!") We hope to see you on the dance floor at the awards dinner on September 14th.
RBVL 2007 PLAYOFF RESULTS
OCEAN DIVISION

S & G 21 21 21 S & G 13 21 10 14 Sugar Bowl 16 17 12
Casino Towing 8 18 14 Freedhand's * 21 19 21 21 Freedhand's * 21 21 21

Sugar Bowl 21 21 22 Mark's Maintenance 19 14 19
Fillmore Insurance 14 18 20 Sugar Bowl 21 21 21


WAVE DIVISION

Ozone Layers 21 20 19 Flip-Cup All-Stars * 21 18 21 21 Flip-Cup All-Stars * 21 17 21 21
Big Mahooshka's 23 22 21 Big Mahooshka's 12 21 12 10 Coppersmith's 9 21 13 9
Mighty Boosh 19 22 18 22 Jameson's 17 21 21 18
Coppersmith's 21 20 21 24 Coppersmith's 21 23 12 21


BEACH DIVISION

Belle Harbor Posse 12 16 13 BHYC 14 13 21 16 Federation 8 21 19 21 21
BHYC 21 21 21 Federation 21 21 15 21 Bay House Babes 21 15 21 12 18

Federation 21 21 19 21 Healy's Ratpack * 21 11 21 11
Sunrise Sharks 15 13 21 8 Bay House Babes 18 21 23 21

Healy's Ratpack * 21 21 12 19 21
Connolly's 14 15 21 21 14

Bay House Babes 21 21 21
NW IRSH CRCL 14 16 14





BOARDWALK DIVISION

Beach House 21 11 17 21 19 One Win Away 13 22 15 14 Wharf Rats * 21 17 21 17 21
One Win Away 15 21 21 17 21 Sand Spikers 21 20 21 21 Sand Spikers 18 21 15 21 9

Odd Couples 12 12 10 Wharf Rats * 21 18 21 21
Sand Spikers 21 21 21 Cheese Fries 11 21 13 6

Wharf Rats * 21 21 21
Coral Reefers 10 17 7

Cheese Fries 21 21 21
Boarders 17 16 13

SUN DIVISION
Brooklyn Transplants 21 21 14 21 Brooklyn Transplants 21 14 14 14 Blarney Castle * 21 22 21
Jameson's Transplants 16 14 21 18 Blarney Castle * 19 21 21 21 The Wave 19 20 18

Pier 92 Piranha's 3 11 14 The Wave 21 22 21
Blarney Castle * 21 21 21 Sands Point PT 12 20 12

Kerry Hills 12 15 18
The Wave 21 21 21
Sands Point PT 12 21 19 21 21
Harbor Light 21 15 21 16 16

MOON DIVISION

Team Margarita 21 21 15 21 Team Margarita 10 8 21 21 21 Team Margarita 21 21 21
Simon Says Sea Bar 17 17 21 16 McMahon's 21 21 19 15 18 A Night Out * 12 16 19

McMahon's 21 15 21 21 A Night Out * 21 21 21
Beach Orphans 21 21 11 15 Robin Shapiro Realty 11 15 11

A Night Out * 21 10 21 21
Suns of Beaches 16 21 12 17

Robin Shapiro Realty 19 21 21 22
Last Call 21 16 19 20