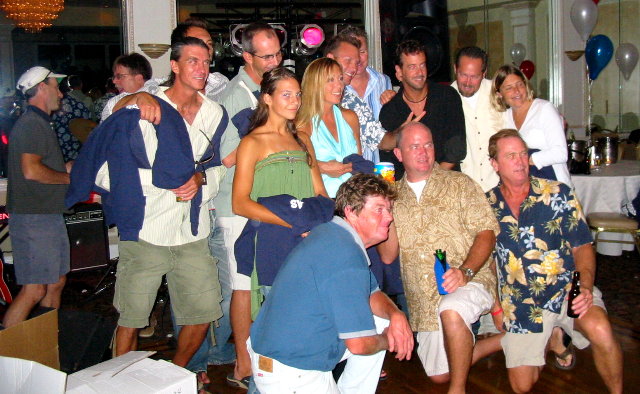 The Rockaway Beach Volleyball League concluded the 2005 season with their annual Awards Dinner on Friday 9/16 at the Beach Club, setting a new attendance record (220) with players eager to party the night away. A rocking good time was had by all, aided by the music of Souled Out, who made their RBVL debut. Good food and cold beer is the usual formula for a fun time with this group and once again it proved successful. Thanks to Theresa and her staff who helped make the night so pleasant. Thanks to Rocky and Bugsy who toiled many hours, working on the details of the extravaganza. Thanks to all of those captains who organized their teammates and collected deposits. Your work is invaluable.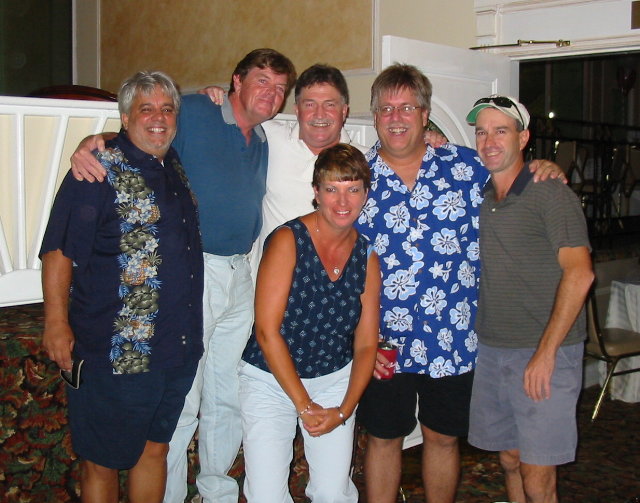 Championship sweatshirts were presented to the division winners and will be worn proudly by:
Ocean Division – Freedhand's Court Champs (Mark Aiken)
Wave Division – Fillmore Insurance (Jim Sluyk)
Beach Division – The Mahooshkas (Judy Aiken)
Boardwalk Division – The Sandbusters (Eunice Ro)
Sun Division – Coppersmith's (Monica Bradley)
Moon Division - The Brooklyn Transplants (Pat Connolly)
Amidst the team presentations, individual awards were given out as well but none had anything to do with volleyball skills or ability. First up was Mary Ryan who was presented with a roll of toilet paper for the times her team is assigned to a court half a mile away from the bathrooms. Next up, captains Greg Deboer and Pat Connolly accepted containers of Red and Mystery Kool-Aid, which I'm sure they'll squeeze into a blender very soon. Allison Kearns was given a pom-pom for Pier 92's outstanding cheering although their head cheerleader couldn't make the party. (Perhaps he was on top of a pyramid at the National Cheerleading finals.) Aspiring Cub Reporters, Mary Whelan and BillyHiggins now have volleyball bobble head dolls to commemorate their first forays into sports journalism while GiGi Walsh can remember her Adult Musical Chairs championship with her non-musical chair trophy. (I hope it fits on your mantle.) The final award typified the wacky nature of the RBVL. The "Perfect Attendance At All Parties" award was presented to Cubby and Jimmy Mack, neither of whom was present to pick up the prize. (Jimmy was spotted on the dance floor earlier but didn't make it to the podium while Cubby was working and not in the building.) However, just before the band returned Greg had a surprise for the executive board members. His crew from the Transplants/Turtles presented them with beautiful gift bags, filled with Brooklyn hats, shirts and super-coozies along with a bottle of Australian wine. It was much appreciated by all!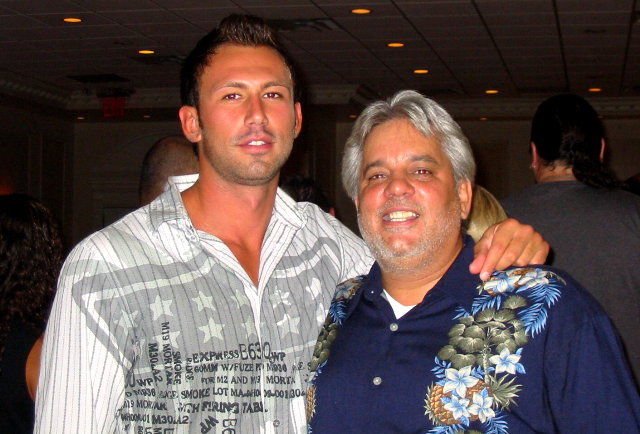 More Hawaiian shirts showed up this year than any other and you had to admire them all. Last year's Best Dancers were Kevin and Mary Begley but this year they finished second while last year's runners-up took the title. Craig Samu and his lovely wife won the trophy aided by his Mick Jagger moves in spite of the fact that he's a referee! Craig was seated at a table with all the other refs. Well, actually, he was by himself. Rocky finished in third place with some nifty footwork. Watch out John Travolta! Maybe next year he'll use some nifty footwork during the actual volleyball games.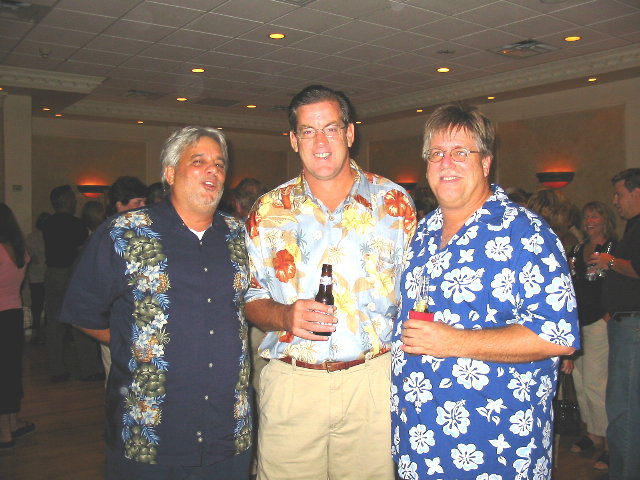 The top attendance team at the party was the Brooklyn Transplants/Jameson's Turtles conglomerate who checked in with 34 members. Did they have a wagon and cooler parked under their table? Rumor has it that Denise had her blender mixing blue drinks in the Ladies Room. Kerry Ann Douglass (aka Touhey) provided a valuable shoe consultation service at the bar and concluded, "Boat shoes are very bad!" Having 7 oz. bottles of beer looked like it would be a problem until two things happened. People realized that 2x7=14 and started drinking two-fisted while the bartenders opened beers faster than was thought humanly possible. Hats off to you, ladies! If you are wondering why TBG showed up promptly for a change, Eddie and Dickie successfully enticed him out of the Knights of Columbus with a tray of Jaegermeisters. He proceeded immediately to the dance floor and did his best Elaine Benes imitation. Murph notes that the absent Seal used to tell the stories but now he is the story. ("My tummy hurts.") Monica from EZ Company is planning her accessories for next year's neon lime green uniform. (To match her eyes?) With Bobby Fash doing handstands in the middle of the dance floor, could a Sue Brown cartwheel be far behind? The annual ritual of doing a back flip off the bar stool was renewed by DB at the Harbor Light at 3:00 AM.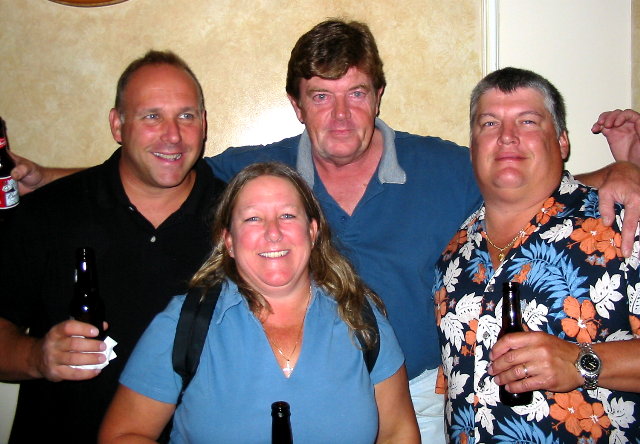 Debbie Sluyk would like to organize a weekend volleyball trip to Club Getaway in Connecticut. It's a great place for fun and volleyball and it only gets better if you go with a bunch of friends. No date has been picked yet but if you are interested or would like more details drop her an e-mail at das1461@aol.com. It's a little early but you can already mark your calendars for 2006. Our practice week is set for 5/24/06 and opening day will be Wednesday 5/31/06. (We'll see the captains in the winter, as we begin planning for next season. If your e-mail address changes, please let us know.)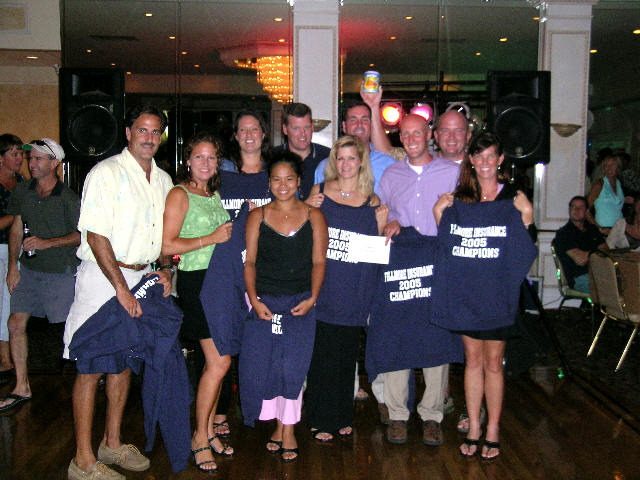 A grateful nod must go to all of the sponsors of our 40 teams. Without their financial support the league might very well not exist. A special thanks goes out to the sponsors who hosted the Wednesday night parties after the matches: Grassy Point Grill, Kerry Hills, Irish Circle, Connolly's, Healy's, Vaughn's, Pier 92, Rugby Clubhouse, the Harbor Light, Jameson's and the Blarney Castle in Breezy Point. All provided a great atmosphere for players to unwind after a pressure-filled night of beach volleyball. 2005 was a terrific season in spite of inclement weather on what seemed like every Wednesday night. Special thanks go out to Commissioner Patty Moule and her hard-working committee members, as well as anyone who volunteered for jobs along the way. Your help, even with the smallest items, was much appreciated.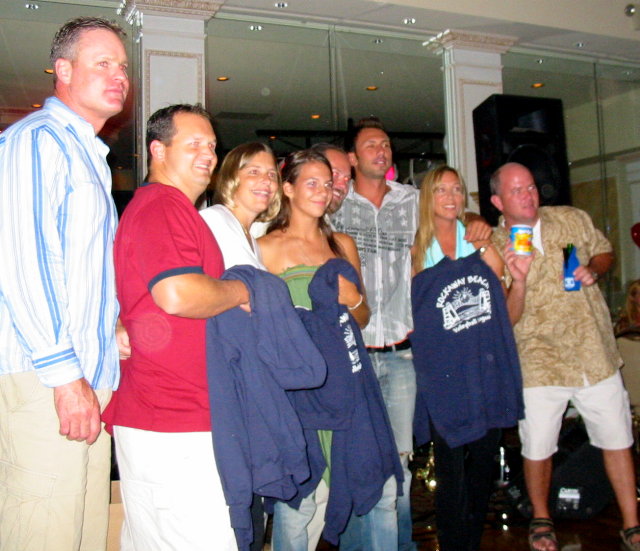 Commissioner Patty concludes the 2005 season with her traditional final thoughts: "To all RBVL players, their children, officials and friends - This season was a risky one. Taking on 8 new teams brought me back to the first year I agreed to run the league (Was that 5 years ago?) The butterflies in my stomach never stopped! Thank goodness for good people! The new teams brought so much positive energy that you couldn't help but feel good around them.
The new officials were responsible in their new venture and were also a lot of fun! As always, it was great seeing players and officials enjoying themselves once again! My friends on the RBVL committee continue to amaze me. As the years go by, no one has "slacked off" as I initially worried over. Bugsy, you outdid yourself this year, especially the planning of the awards party. Denise, thank you for doing the one job I would hate to do. You arrange the post-game parties superbly. Joe, you are a gifted journalist, besides being my "right hand man" and statistics/schedule specialist! John, great job on making the website (WWW.RBVL.COM) so accessible this year! Rocky and Steve, thank you for handling the all-consuming equipment issues and for all your work on this season's parties. These six folks, with their unique personalities and abilities represent what Rockaway and the RBVL are all about – good people, looking to have some well-deserved fun after a hard day's work. Thanks to everyone – captains, players, referees, spectators and all the children, the future RBVL players for making 2005 one of the best season's ever. Sincerely, Patty Moule- RBVL President."
See you on the beach in the summer of 2006! (Or maybe if we have the first RBVL Christmas party this winter.) Check the website at www.rbvl.com or the Wave next week for pictures from the awards dinner.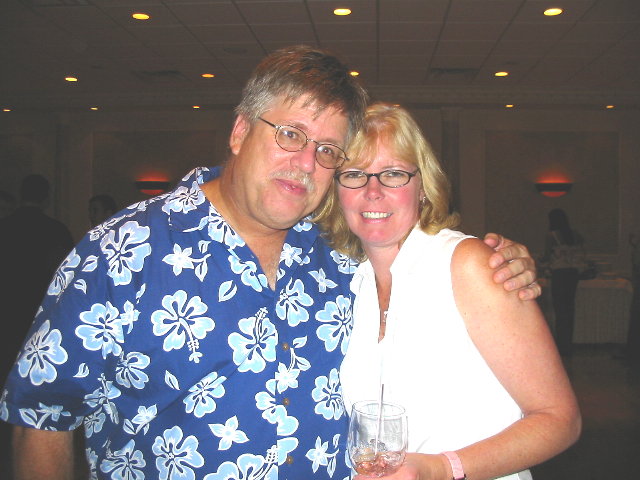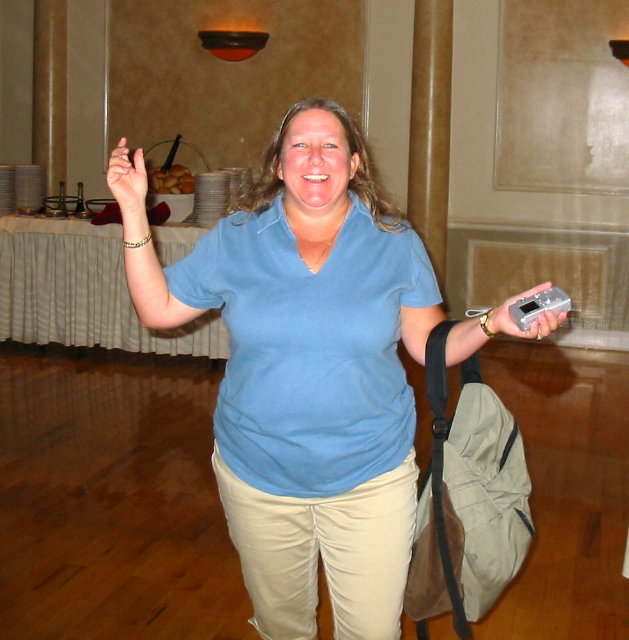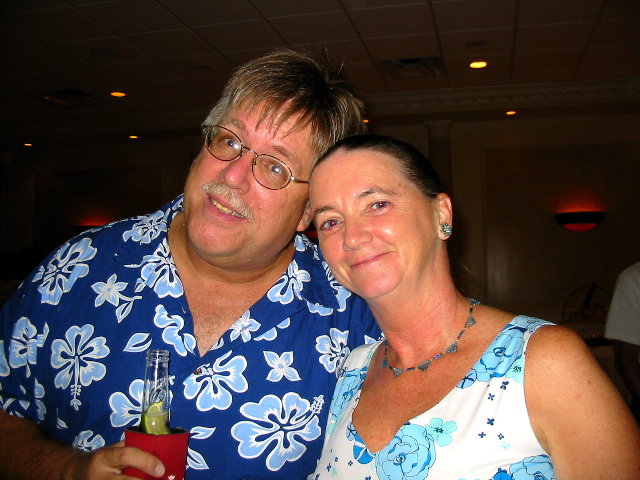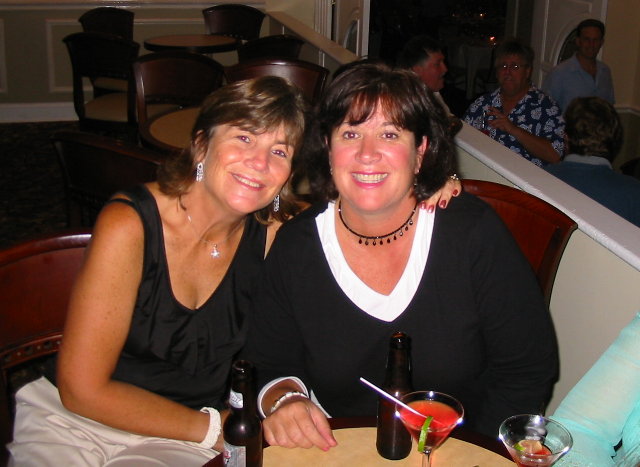 RBVL Crowns Six Champs
A second page of photo's have been added!
Click Here:
<![if !vml]>
<![endif]><![if !vml]>
<![endif]>
Quick view of the final standings below
Got any pictures you want on the web? Any comments, or new stories to add? Want to have your own team page? email John Sica at: john.sica@rbvl.com with info or comments.
Recap of the 2004, 2003, 2002, or 2001 seasons. click below: