Week Six

If this picture don't put our websight on the map, nothing will.
The Rugby Fisheads "stormed" back after falling behind 3-0 in games to Papa's Bikini Bottom All Stars, climbing to 2-3. They warn that they are just warming up, which wasn't easy in a cold rainy night at Riis. Tyrone and Jimmy Mack are cut from the same cloth when it comes to passion about the game, but that cloth was tattered by the end of the match. Tyrone wishes Jimmy the best, and hopes they left it on the court. John Brennan and Ryan's never say die attitude brought them back.

Brendon's presence has helped Papa's Bikini Bottoms challange for the top spot.
A Night Out don't give a …. They came right out after the match soaking wet. The toughest guy in the world though, the biggest football player, Fluffy (aka Sleeping Beauty), got hurt playing volleyball of all things. His teammates call him the softest 240 pound division B football player in the leaue. A Night Out says thanks to fluffy, they attribute their 0-5 night to his absence as he nursed his back. They would also like to thank JR for his 50 foot serves. Nice to beat up on 4 girls while half their team is away. Dig that out.
Grassy Rat Pack managed to salvage one game, despite Mary getting her glasses knocked off by Mr. Testosterone, the Assassin. He was a total gentleman though. Hats off to the Mahooshka's, as they prove to be once again the best of the division. (so far)
Mazaltoz Joey Sacca! It's All Good's quiet player. TBG right place, right time. It turns out that TBG has stepped up his game enough to get the game ball he hasn't had in two years. He asked Flanaghan whats the difference between his game and Michael Jackson. Answer they both ended up at Kmart for the half off boys pants sale. Murph said TBG is not a name, it's a trust. TBG will now be known as "TGB", "The Game Ball." Murph was relaxed after taking a seat from a pregnant lady who didn't realize that he earned the game ball.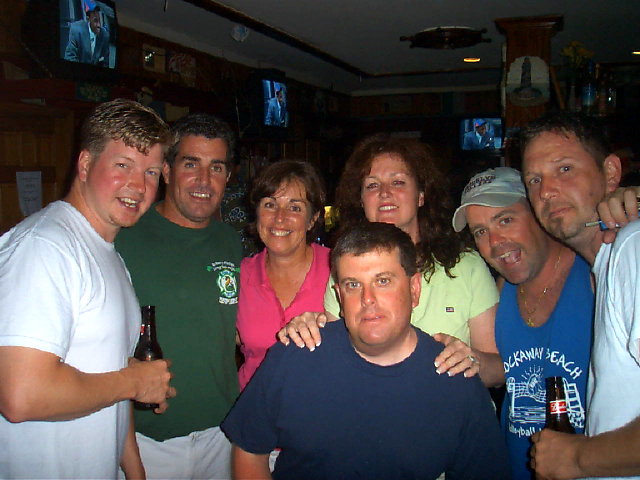 Hammer as always was feeding The Chisel. Debbie is starting a workout regimen to hopefully help her to start contributing to the team. She begs her team to be patient. Tom is helping out big time. Happy Birthday Sheila.
Healy's going against Freehand Court Champs wants to let us know that the games were closer than the 0-5 score. Ricky vs. Dancer at the net, Richie 15, Dancer 1. Dancer is proud of that one. Kerry DeVilli thanks for being on time. (for once) Healy's is still prepping for the playoffs.
Connolly's Island is wondering where the heck are their teammates? They must be stranded on the Island. Ricky, Denise, and Michael where are you? Lost? Colleen needs help. Gilligan had more help when the SS Minnow sank.
Meanwhile Connolly's, a perennial power house at the bar, is fading. Morgan and Gifford are trying to hold up the tradition but they need help. Shevy Jr. you missed the bikini contest. His older brother Shevy was seen twice in Dunkin Donuts on Wednesday. Maybe they are resting up for the 127 block party tomorrow. Connolly's won 3-2 over Beach Posse. The strategic time outs killed Connolly's.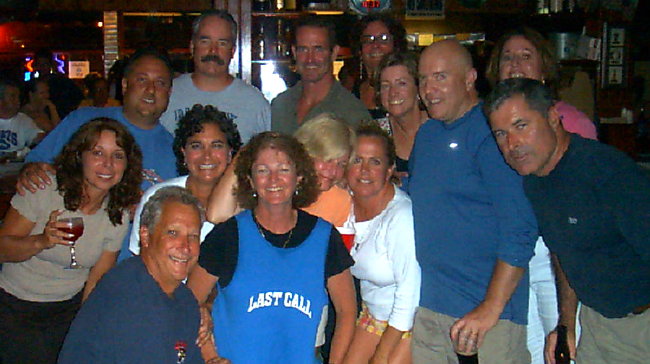 Last Call knows how to have a good time!
"Last Call" once again are way ahead in the post game party award. Who's having the most fun? Last Call is defending champions. Franky D came out of retirement this week. He tried to make up for lost time by being all over the court. And thank you to the one who "O-Byrnes" up the court. The Marine with the spike return better be there next week when they challenge the Brooklyn Transplant. When you transplant to Rockaway you must learn to come back to the bar. Hey Big Brown, if you worked for UPS you would always have an umbrella.
Pirhanna's finally won 5 in a row. It's too bad they couldn't do their fun cheers because Vinny wasn't there. Maybe they won because Tara didn't play, but her enthusiasm is what brings them over the top. Hopefully there winning streak will go to 10 against the Cheese Fries next week.
Kerry Hills are back thanks to their lucky charm Carmel O'Sullivan and her lucky penny. Also Noelle's strategy. Well done to all. Welcome back Bannigan from the "ould sod". Watch out Harbor Light its on now.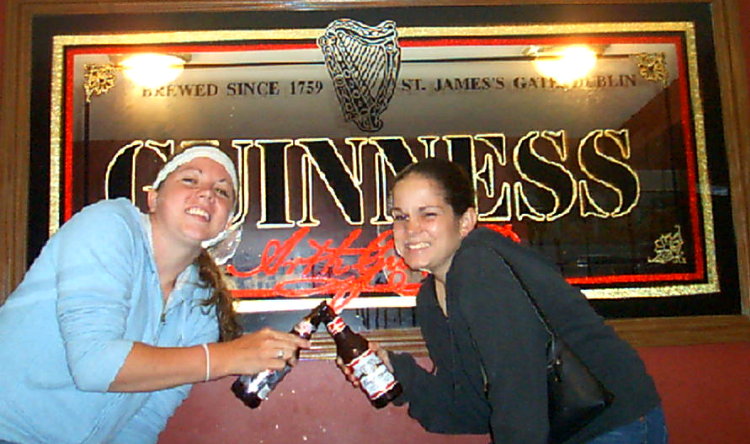 Killer Hills celebrates the sweep!
Killer Hills may have found the secret to winning. It's the first time they have swept a week since entering the top division. The secret? For the first time they didn't yell, threaten, fight or punch each other. But the real key was Leigh Ann! Her serves were "on" and "in". Their new formula of Brian and Trish the Dish setting "carried" them over the veteran (aging) Abbracimento's. Not only are they getting old on the court, but they can't even stay awake long enough to go the the bar at 9 oclock. Kenny would like to thank league officials for keeping them in the top division. This night was worth it.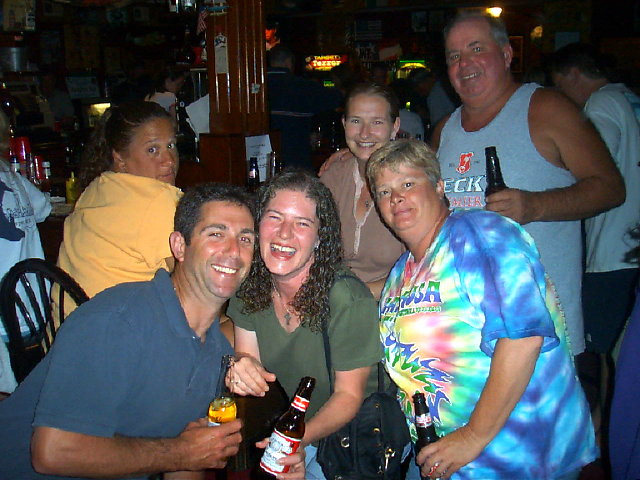 EZ Company won only once against Brooklyn Transplants Dolores Weber had a fine serve all night and there was strong offense by Mike Munns, TJ Meade, Annie (Mrs. C) and Chris Cordes. Cubby said be careful. (Don't know why) Deborah's asthma didn't hold her back at all…all that heavy breathing helped her team. Maureen Cummings, Chris Reilly and Monica assisted in the long volleys but they missed Turtle and Brian, their spiking team. Dione did a great job in the fight for first on the food line. PS Mrs. C carried the team on her back last week when she set up the net and prayed for rain.