Forms
2018
Roster Form

Rocky shows the proper form for bumping to Jameson's free of charge.
Wednesday's storm left behind a perfect volleyball night, little wind, heavy humidity and a thirsty group.
The after party at Healy's was festive, as they provided a great spread of food. Dancer provided the firehouse delicacies, and Healy's had their usual great music, and okay people. (just kidding about the people).
The team sponsor of the year has to be Mr. Hills, Kerry for short, owner of Kerry Hills, (aka Jimmy O'Sullivan and his lovely wife Carmel) who has come to watch his team every week. This week he even brought a bonus, Chili Dog, who was instrumental in watching the lines this week. They haven't let the owner down as they have compiled a 14-1 record. But the real bleacher bums that inspire the team are Phyllis Kearns and Leigh Ann Salica. Their support has been instrumental in the teams success. The Hills is eagerly awaiting the showdown on July 3rd, against 15-0 "The Beach House." This week the Hills swept again, but the Arizona Diamondbacks had as much to do with it as Kearns, Gambino, Walsh and the Dish's sets. TNT's Marty, Karen and Angel (the PR man for the team), showed up late and drunk after watching the D'backs beat the Yanks at the Stadium.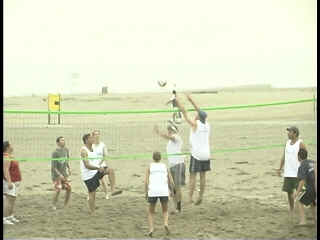 Where is Liam Bulger for the fourth week in a row? He even called from the Palm Gardens to tell the Kilkenny boys the games were canceled. Team members have speculated that he is trying to secure the Palm Gardens as a sponsor for next year.

Fillmore redeemed themselves winning all five, although still playing sloppy. The "I Got It" sisters don't "got" their act together. We would like to say a special thanks to Lt. Jim's wife for coming out and showing her husband how to set, bump and we're still working on spike. We hope Rich has healed from running into the net all night long. Maybe Rich should wear his favorite dress from last year. Jimmy the Cheap Bastard on his 20th anniversary was too cheap to come out and buy drinks. Although he didn't score tonight we hope he'll score at home tonight. Kerry Hills here we come.

'It's All Good" has a message for TBG. Take your socks off! You live in Rockaway. And another thing, lay off the sausage. Although your stomach might have scared off Son's of Beaches. It's All Good posted a 5-0 forfeit win.

"One Win" finally really lost it all. One win is not a necessity, it's just a goal. But "No Beer" cannot be tolerated. Their supplier, George Murphy was noticeably absent this week. They didn't miss his play, only his cooler. "One Win" would like to thank Fillmore for supplying the cold ones in his absence. They would surely trade five losses for a couple of Buds and Coors.

Coppersmith has a message for Joe and Rocky. Get a life!

The Bikini Bottom All Stars finally got back on track as they posted a 4-1 victory over the Federation. The score did not indicate the competitive level of the match as Maureen Tracey, (softest server and kisser in the league) benefited from her new weekend "two's" tournament play. Jay was also raising his game to new levels for the Federation in the losing effort. For the "All Stars" Colleen McManus is playing her best volleyball ever, and Sean Higgins contributed immediately to the wins.

Abbracciamento's edged Jameson's 3-2 as the aged ones triumphed over their youthful competitors. Coach Rocky was forced into a lineup of 4 women and 2 men due to some bogus absences. Kevin, Frank and Charlie will all be chastised for missing the action. Seriously, appendicitis? Try something more original next time. The ball control of Jeannie, Kathy, Leah and Trish won out against the taller, more powerful Jameson's squad. The match was highlighted by Rocky and Joe raining down spikes from the 10 foot line as the women constantly fed them perfect sets.
Just Healey's beat Connolly's 4-1 as star hitter, Tommy D. took revenge on his old mates. His pinpoint serving into the Circle of Pain between Steve and Jennie sparked the victory. Eyes were raised when Tommy also viciously whacked a winner off of Steve's chest. This rivalry could develop into the next Clemens-Piazza soap opera. Kerry Ske was setting great all night and the spikers responded very effectively. Both sides can't wait for a rematch.

Never mind where Waldo is, where in the world are the rest of the players of "TNT"? Although Groatie and Dubs were missing, Groatie had a doctors note as for Dubs .. claims an ankle injury from jumping off the Tiki Bar in Long Beach on Sunday. Cliff, Groatie and Wubs say it isn't so, pictures don't lie. Thank god for Cliff and Wubs who kept their underwear on and became two of the better players for the night. Looks like they will be helping us along for the rest of the season. Boom Boom will be back for the next game. After much debate, she decided its about time the husband got domesticated and start making dinner for the family. She is needed more on the field then in the kitchen!!! were her last words as she marched out of the house ... good for her! As for Chooch, she decided that by taking off her "thong" (in mid play) it might help us score some points, she was right!! Keep up the distraction. This was followed by Killer soaking her tank top and bra in "cold" water as another distraction. Hey, who really did invent the Water Bra?? As for Martha, shoes are still on and the debate on weather or not he has webbed toes. He did take the Yankees losing out against the Kerry Hills who by the way, won. Good team. Wait until next year !! Back at Healy's there was a big demand for Wonder Women to appear in costume .. I told them to get their cameras ready as you never know when she may appear. Oh, and lets welcome back Angel who decided that by the 4th game it would be wise to make an appearance. Claims he showed up for the other games, but at the wrong beach. Angel, its time to wear a hat in the sun !!