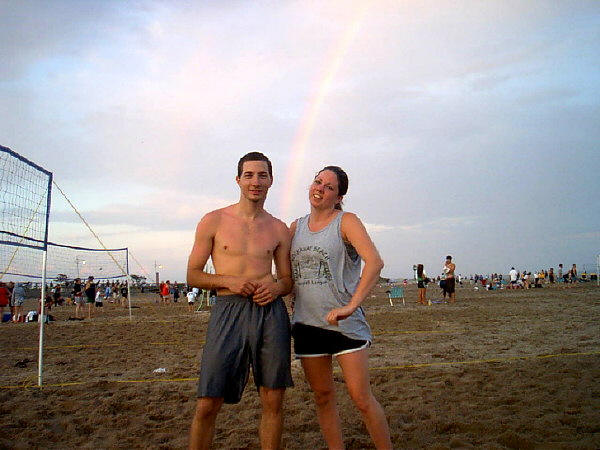 Brother and Sister

By Mr. Rocky + Mary Whelan
What was found at the end of the Rainbow, a great night of volleyball! "Who said it was easy getting old?" What does that really mean? Just because we Ben Gay our backs, brace our knees, pop our shoulders back in and maybe some Advil in between plays does not mean we are getting old. It's one of the best nights in the summer, when we come over that bridge and hit Riis park to play some volleyball and be with a few friends. All the pain goes away.
Danny, yes Danny, from Jameson's Turtles would like to thank Marie and Dave Reilly for giving up their outdoor shower for our practice court. It allows us to practice in their old shower and prepare ourselves for the Championship and most importantly that fabulous prize that we get for winning. Danny would like to welcome the new Turtle Baby Jack Henry to the team and give a big round of applause to his mother, who welcomed him into this world four weeks ago but still went to help the Turtles defeat Last Call. Last Call would like to thank the Turtles for a job well done by kicking their butts 4-1. Last Call meets uniform protocol. Brown socks, underwires and coolers included. Remember, it's not how good you play, it's how good you look. Big Brown you are a one-man show. The Team Captain and her female cohorts are the backbone of the team. No excuses girls, the super heroes cannot go it alone. Spikes quote of the day, "We're awesome!"
Hello Last Call … Patty from RBVL is working on getting you a Port-a- John! If anything, there will be a commode set up in your area. Sleeping Beauty was wide awake this evening. During his spare time, he composed a theme song for his team mater, who wrote about him last week. He just wants you to dress yourself up, maybe take a shower and be prepared for the debut. It will definitely be a day to remember.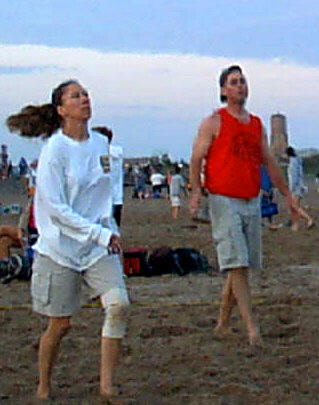 another Brother and Sister combo
Federation played Papa Pizza Bikini Bottoms with no relief players. Greg and George were saving as many plays as they could, and sure tried keeping Big Mack + Sica away. Papas won all 5 games. Thanks to Colleen for helping out. If you feel like playing let us know. Jimmy Mack would like everyone to know that Timmy Smith showed up to play against the Federation in his smoking jacket. He was caught reaching for his pipe in one particular play and was flustered when the ball came his way and he greeted it with his mug. Mary was wondering if it is a good move playing with Timmy, her bethroved on the Bikini Bottoms. Maybe she should join the Federation instead. Tune in next week. Who needs General Hospital? Not to mention collisions on the course. Smitty and Kerry bumped chests. Kerry's guns were too much for Smitty, for obvious reasons, as Timmy tumbled to the ground. Her titanium "knee" was not enough for Timmy to hold; she didn't feel a thing. Kerry don't forget our plan for next week for Connolly's .. Christine is picking us up.
The Pier 92 Piranhas were partying at the home front last week with the old Cheese Fries. Their mascot, a Piranha in Pier 92, didn't stand for imposing team dirty digits in his tank. He was so hungry he took chomps out of two Cheese Fingers. He would not stand for the taunting, therefore Pedro Piranha is a winner on and off the court. They lost to Coppersmiths, with a fight, 3-2. By the way, Mary Kait made some awesome beer coozies for the team. They say, " Pass It, Set It, Spike It, Chug It" and you've got to love it. Casey made great summer jerseys for the team. Bugsy, I think we have to get their input for next year's tanks.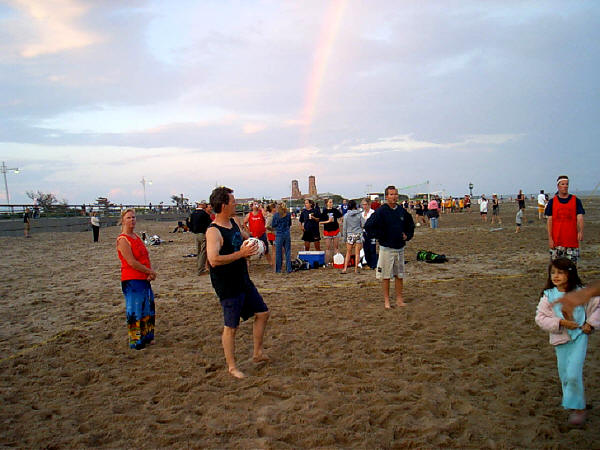 Rainbow Colalition
What a role reversal-- Maureen Conlon's out playing volleyball and cavorting at the Harbor Light while hubby Dan plays Mr. Mom at home with the kids. Will Dan Conlon ever play Graybeards again? Remember Dan, the future is not what it used to be!
Congratulations to Steve and Donna on their impending matrimony on July 4th. Independence Day will never be the same, Steve. Do the wedding guests from Rockaway need a Visa to leave the peninsula on the holiday? Thanks to all who contributed to the article this week. Your notes on coasters, napkins and beer bottle labels are all welcome. What happened to the Rockaway Bachelor contest?
Abbracciamento's played 5 tough games, nosing out Mark and Co. 3-2. Scotty can't move but he can still spike.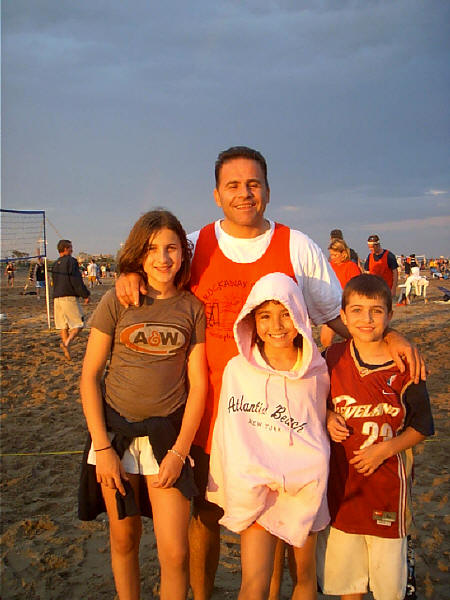 Team Mastorides
Connolly's Island is shocked. Tom Morgan finally showed up for a party. It must have been the rainbow. El Gato (Matt Mahan) scratched back and Connolly's Island won four. I guess cats do have nine lives
Connolly's (or Steve the Capt) get well Mike. How painful it is getting old. The two Brian's, Laura, Glenn and Jenny were MIA. Even the NYPD was looking for them on the beach with a clean sweep with the helicopter that hovered overhead. Next week is a must attend especially at the after party, our sponsor. Capt. Steve is 4-4. Boy, is he missing Party Boy about now.
Two very good teams who play and volley very well hooked up when Healy's played against the Kerry Hills. Brian ("Mohawk") Frazier had a great game on the net with blocks and spikes. A special thanks goes to Kerry and E.G. who almost came on time. 6:30pm means 6:30pm. Should we buy you guys a watch? And Kerry was the first girl to show up - - at 6:40pm.! We are getting a watch too. Healy's won in the end 4-1, as they continue to get in shape for the playoffs. Watch out, Ocean division!
The Beach Posse had it going on this evening. They won four games against Almost All in the Family ("AAITF"). Thanks to Kathy for getting all up in their Kool-Aid with a little help from her friends. Bean served well for AAITF but his passing needs work or he will never get into the family. Happy Birthday Katie and Happy Anniversary to your parents!
Jameson's had a big week. Keith (aka Eric of Kennedy's) Green was all over the court, but Teresa saw it and put down a couple of hard balls. Too bad Buck's bankcard didn't work as well as his hitting. Jameson's beat Rugby Clubhouse 5-0.
Its 11:00 PM and TBG, Cement Shoes and Eddie are waiting for the Rainbow to go away! Don't they know there is no pot of gold at the end and even if there was they wouldn't get it. To quote Alice Kramden, "They've already got the pot, just go for the gold." Although Tom Ray played a great match, Bugsy must be slipping (or wearing a Slip) because Brian didn't even play five games. You really couldn't touch "Hammer Time". Allison is back, after a mini hiatus. She is convinced that it's the Summer Solstice that is helping her put the game back in perspective. They missed Mary Beth due to a root canal. Hopefully they gave her some "happy" gas to help her ease the pain. Other than that, It was All Good!
What a way to end the evening with Steve-o and Party Boy hanging to the very end while Cubby and Jimmy appeared mesmerized as they gazed at the summer moon, holding their Corona's (and hands?) admiring its beauty.
Harbor Light put out a great spread this evening. The bartenders were quick, busy but very gracious. The food hit the spot after a great night of Volleyball. Thanks to everyone who helped with the court alignment and set-up this week. Your cooperation has smoothed over a rough stretch. Be prepared for a change back to the old arrangement soon as the plovers seem to be moving on. Just check the bulletin board when you arrive at 6:00 PM and the court assignments will be clear. Captains, your signed rosters are now overdue. If you have not submitted one yet, you need to call Bugsy or Patty immediately and make arrangements to drop it off before Wednesday. Next week's part is at long-time league favorite, Connolly's. We'll see you there and on the beach!
Week Four Results:
| | | |
| --- | --- | --- |
| OCEAN | | |
| Abbracciamento's Off the Pier | 3-2 | Mark's Maintenance |
| Sugar Bowl | 1-4 | Freedhand's Court Champs |
| Killer Hills | 1-4 | Healy's |
| WAVE | | |
| Fillmore Insurance | 0-5 | Belle Harbor Yacht Club |
| Federation | 0-5 | Papa Pizza Bikini Bottoms |
| Rugby Fisheads | 0-5 | Jameson's |
| BEACH | | |
| Mahooshkas | 5-0 | Connolly's |
| Grassy's Ratpack | 2-3 | It's All Good Tees |
| The Beach Posse | 4-1 | Almost All in the Family |
| BOARDWALK | | |
| The Odd Couples | 1-4 | NIC Ramblers and Gamblers |
| Beach House | 1-4 | Rogue Sharks |
| Beach Orphans | 3-2 | Sandbusters |
| SUN | | |
| One Win Away | 5-0 | Sands Point PT |
| Harbor Light | 1-4 | Vaughn's Cheese Fries |
| Pier 92 Piranha's | 2-3 | Coppersmith's |
| Connolly's Island | 4-1 | Kerry Hills Pub |
| MOON | | |
| Suns of Beaches | 0-5 | Brooklyn Transplants |
| Last Call | 1-4 | Jameson's Turtles |
| A Night Out | 5-0 | No Names |
| EZ Company | 0-5 | Blarney Castle / Hair Den |