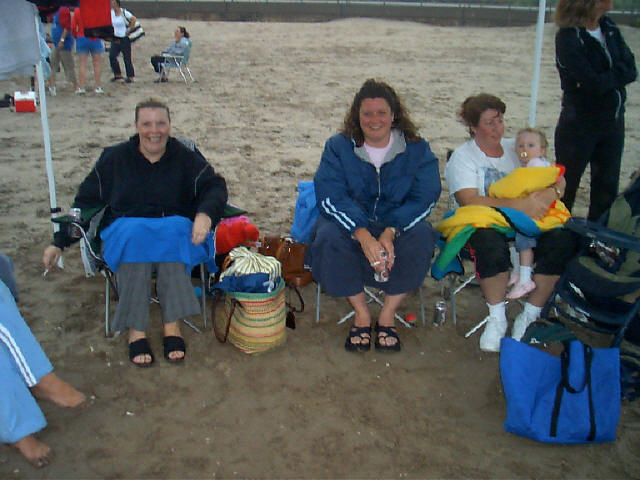 The Wind and Rain couldn't spoil the girls night out!
By Mary Whelan
Last week, at the end of the rainbow we found Cubby, Mack, Kerry and Colleen singing and dancing to the music in Rogers very late. Did you guys make it to work? Inquiring minds want to know. This evening was another one of those nights of "Do we play or do we not play?" Mother Nature and Old Man Winter better do something because this is getting old. They are really testing the RBVL League this year. But our team passed the test and showed up ready to play. Joe even sported his classic "New Kids on the Block" hat. What's up with that? Nice hat Joe. The Killer Hills gang wants to know if you'd like to put it up for sale on EBAY.
Jaime from the Brooklyn Transplants would like everyone to know that they won the 5 games due to the fact that Rose came back to play. They beat A Night Out, without having a night out! They almost lost 2 of the games because Matt Connolly and Richie Visco kept body slamming each other all night. Does anything change?
Diving Danny from Jameson's Turtles would like to give a shout out to the FBI guy, who has just entered as the 3rd contestant for the Bachelor Contest (details later in the article). They won 5-3 over the Sons of Beaches, no thanks to the FBI guy for showing up for the final point in the final game. Buy yourself a good watch and enjoy the splinters next week! A big shout to Jen for giving Big Mike food poisoning, which made him miss 3 games in a row. The bars are not the same without you guys (neither is the game).
The "General" is in the house! The Road Sharks won 3-2 over the Odd Couples and had a great time. Its volleyball the way it should be. The General is actually thinking about resigning his contract for next year. Jeanne needs to wake up! She had to be reminded by her teammates today on the court that it was Wednesday night and we play volleyball on Wednesday nights. Rumor has it Dougie is still planted in the sand down at Riis and the rescue party is on its way.
You asked for it, here it is! The first annual RBVL Bachelor contest is now open. All candidates wishing to enter into this contest can submit their name, address, age and stats to Joe or Mary starting next Wednesday. And who is this Stud Muffin you are all competing for? It's none other than Rockaway's own Neil "Cubby" O'Connor. Get your g-strings out as this will be some competition (location to be mentioned later on in the season) here in the Rockaways. Ladies, please contain yourselves. If you have any questions or concerns please be advised he has been tested and house broken and comes with papers if requested. Neil is a homegrown Rockawayite. He has served his country valiantly by protecting the water border (so a shark go in, so what not to mention the Golden Venture) for many years as a member of the USCG. Many of you are familiar with this fine young stud, for his kindness and great wit having bumped into him in many of Rockaway's favorite establishments. Or perhaps he assisted you, whether you liked it or not, on an EMS call. For many years this bachelor has been fighting off invitations and requests to be the Man. Cubby has stuck by his policy and lived his life to the fullest before giving up his reign.
As of this evening, we have two nominees to compete against our Bachelor, Cubby. Dano and the FBI Guy from the Turtles are willing to compete against the champ. This will be a night of fun, festivities and all the glamour and publicity that comes with the competition. Let the games begin!
Tough night, well fought by Connolly's who played against Grassy's Rat Pack and won a 3-2 squeaker. They were all close with only 2 points separating the winner from the losers. Hats of to MAF for his great saving dives. Keith you have come a long way baby, playing better than ever. Bobby L. with that girly serve, well at least it works and Jim (the one man team) well 9 points in one service is pretty awesome! Kevin we missed you; hope the shoulder is better. To the rest of the team – ladies you play great and Mikey and Dano (our bachelor), as always in the right place at the right time. As for myself, I have been told the first save I made just made my game better? Go figure. Baby Rat – where are you? Connolly's was hoping for some lightning, but found out they play well in the mud. Coach Steve was seen skipping (or trotting) to the net. I think he definitely has a team full of "Mudders". Beach Volley Ball – just the way we like it, rain, wind and some more rain!
A good night was had by all at the post-game party. Bugsy, "The Human Karaoke Machine" led the crowd and the DJ in Connolly's for a fun filled night and he even showed off some fancy foot work on the dance floor! Thanks to our sponsor Connolly's for the food, beer, frozen drinks and the great music. The cold pickles and cold Sponge Bob macaroni and cheese were unique culinary touches. What happened to the 14-year tradition of hot dogs and hamburgers? Is Coach Steve swearing off red meat?
Captain, my Captain, wherefore art thou? The fairy tale ended for Last Call this week. No Cinderella story for us. In spite of heroic efforts those who showed, we went down in flames and could not rise from the ashes. Where was Gabriella Reese? We really needed you this evening. Oh no, I am so tired! Despite some great play by Surfer Girl and the great Kate, we couldn't pull it off. We will be back with our "A" game next week.
Nice Haircut Skippy. The convict look is in (its called the Mack, as in Jimmy Mack). Karen stepped up and wouldn't let her team leave the bar. Sean was a no show at the Bikini Contest. Maybe he wants to be bachelor #4? Come on now! Papa's Pizza welcomed Brendan to the team, straight from Long Beach. He was promptly submitted to a "ringer" signature check and passed with flying colors. Welcome aboard. After the Beach House declined to enforce potential first game forfeit, the Sand Busters took 3 games. The Beach House again played with 3 women. Where are the Beach House men? Cement Shoes finally got off the ground. Too bad the ball was dead. Where was the mailman? Through snow, ice ... but not the rain!! What's up with that, TBG? The players would like to know who had the fancy tent up on the beach? Are they Rockaway people or Brooklyn people? Don't they know, no tents and no showers allowed! Patty and Joe want to know what we did back on 86th St. when someone had to go to the bathroom? Maybe we all just had better bladder control when we were younger.
By now, all captains should have their signed completed rosters into the league. If you don't, you better drop them off at Bugsy's house before Wednesday. That's when forfeits will begin.