Volleyball Season in Overdrive
By Rocky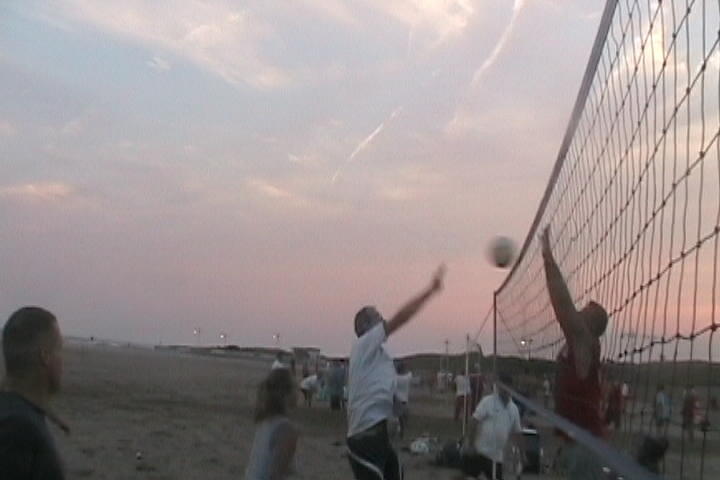 I was born and raised in this city and as a result, I am spoiled for anywhere else. The last issue of New York magazine featured the best things to do in the summer in New York City. Rockaway was mentioned more times than any other location. No surprise but let's keep it quiet.

This week's party picked up where last week's left off at one of the league's longtime favorite bars, Connolly's. The place was packed and the food was plentiful. The menu featured the traditional hamburgers and hotdogs but this time Jeff kicked it up a notch and served brontosaurus burgers and jumbo dogs. Outstanding! And do we even have to mention the frosty frozen drinks Connolly's is famous for? Outstanding, too!

Don't forget that next week's party is at the Sugar Bowl in Breezy Point. It is on the beach and night volleyball is available. Also, a D.J is being brought in to play your requests. Parking arrangements have been made with security and is available in the main lot by the stores. Just go past the security booth on the left hand side and then park on the right hand side in the large lot. Then head to the ocean by walking straight down Bedford Av. Stop when you see people playing volleyball and having a great time. You are there. Remember a clear conscience is a sign of a bad memory.


Wondering why your team is never in the article? You have to find the laptop and tell your story to our professional writing staff. Here Nancy tells Rocky how to spell "beach".
In two weeks we will have our own RBVL Beach Night at Riis Park. A DJ will be brought out and one VB court will be lit up for night play. You supply the beverages (which you do every week) and food. Be creative and daring or just bring a bag of potato chips; it's up to you. On another note, please respect the rules regarding rosters and forfeits. Even thought the roster deadline is this week it is still wrong to borrow players from other teams or pick up people from the beach when none of these folks is going to stay on your team. Make an effort to get a full team to the beach on time each week. 95% of the teams in the league do it but let's make it 100%.

Team Margarita had the Mojitos going as they went on to win 4-1. The 6'3" brothers, Marty and Eddie Murray cost Margarita one loss because they both are a little south of coordinated. Margaritaville rolls on seventeen and three. EZ Company may be looking to move up because tonight we wuz perfect! Tim Mahoney was on a roll with ten consecutive points and Debroah Munns (Team Captain) had the spike of the night—on the court not in the punch. T.J who? Thanks to the other team for not showing up. Congratulations to Maureen Cummins and her family. Her husband is in Iraq and just received a medal of bravery from the New York City Fire Department.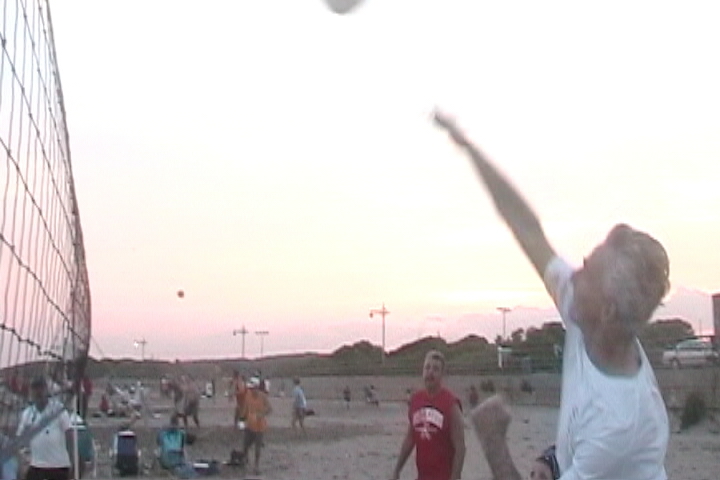 Connolly's took four from Nancy and Company, no thanks to Tommy Morgan. Schools out (forever) and our semi- committed team is back. Thanks to Andrew Gifford for helping out with the equipment. Dust is only fuel for the Piranha's. Sands Point took four games away from One Win Away—say that fast three times. The front line play and the serving of Jake Touhey and Pat O'Leary was the difference. Sands Point physical therapy is standing by for any pulls or strains. It always hurts more when you lose. Before you ask, Murph - they have no therapy for hangovers. By the way, what's up with that swimsuit pose you were sporting on the sidelines? Leave the swimsuit posing to Christie Brinkley, please. Why did Bobby Hogg play all five games while Mary Ellen Smith only played one for the Beach Orphans? Was it so she could have four games to smoke cigarettes on the sidelines? The strategy resulted in one win against the Blarney Castle. New referee Tommy Kearns has made a big splash in the RBVL and he has gotten high marks for his debut. Of course, using the word "new" and Tommy's name in the same sentence is a bit of an oxymoron. He's so old that he holds the record for first (and most) red cards received in the RBVL. Now we fixed him, we made him an official. His knowledge of the rules was evident when he called Tommy for illegally catching a serve toss. The only problem is that the rule was changed two years ago and he was using the rules of 1990. By the way, brother Stevie says he can be bought off cheap; two beers should do it most weeks. Were those five women crammed in the booth with Rocky reporters or does he have a beach harem? Remember, cramming lovely women into the reporter's bench is always a good thing.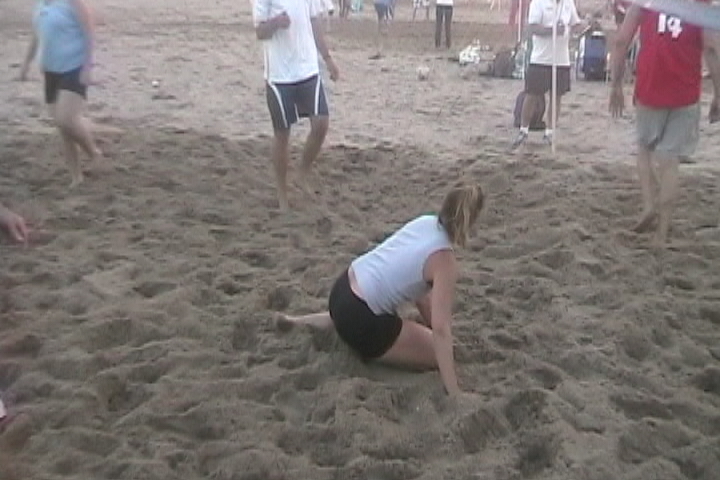 What goes up must come down.

Desert Island lost 4-1 against Night Out, as was expected and their strategy is working perfectly. The games were fun to play, no stress due to the close scoring. Simon Says they could have won 5-0 except for the fact that they lost. Patty showed up destitute and had to borrow money to pay her debts. Most VB players show up to the parties without showering; sweat + sand + beer seem to go together. However, Janet and Eileen went to Janet's house to shower together before arriving at Connolly's. Joe offered to shower with them next week and that might be our lead story if it actually happens.

From the Brooklyn Transplants/Jamesons report: The Trasnsplants lost 3-2 to the Sandpipers due to the many Transplants who were not present. The Turtles won 3-2 over the Harbor Light despite the fact that they were short players and the kid in the orange shirt was a ringer and thought he belonged in the AVP. Rumor has it a few members of the Transplants/Turtles are incarcerated in the state of Connecticut due to the disappearance of one balloon boy. Brooklyn attorneys have been dispatched due to the poor quality of local Rockaway attorneys. They will be out next week and the Transplants will be up to full strength, so beware. Mike M. had nothing to do with the alleged hit on balloon boy and will retain his title as FBI guy of Rockaway.
Congratulations to the Kerry Hills for beating McMahons 4-1. Perhaps the victory was due to the Lucky Charm - Carmel. John and Rob don't have their priorities right and chose the Booze cruise over volleyball night. A shout out to Bobby AKA-Pizza Man. He could have done with a little help from his teammates. Why didn't Josie the bartender show up to support her best customers and watch them serve for a change. Sean, we know who the real cabbage is. Wait until the wedding day. Who is going to control our biggest fan, Dylan on the beach? Where were the Transplants at the Kerry Hills?
Grassy's Rat Pack needs some poison. The Rogue Sharks played some great games but would have done better if Steve stayed off the motorized cooler. After taking three out of five there was still time to play the cloud formation identification game. They wouldn't know a daisy from a donkey's ass. There was a sighting of Kevin Dresch of Brooklyn at Connolly's or maybe it was the clouds. Simon took control of the team in the absence of Mike McEllhatton, and Simon Says Sea Bar won two out of three. Tommy Lac almost took a shovel to the groin going for a windball, giving "dig" a whole new meaning. Thanks to Joanne Blum, who single-handedly helped her team win two games. One More wanted very badly to contribute to this article. Unfortunately Steve Gifford took so long putting together a coherent thought that they drank themselves into a coma. Just wait until musical chairs. Where the heck has Pat Gallagher been?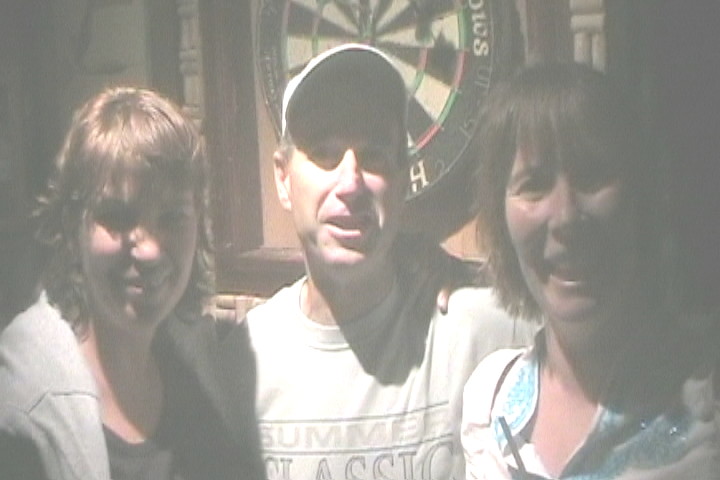 Kevin Perry finally showed up for the Bayview Bashers and contributed right off the bat. The wind contributed mightily to the bad serve fund which skyrocketed to $2,482 dollars. Hopefully Kerry remembers where she put the loot. The Bashers kept pace with the league leading Killer Hills who were playing shorthanded. There is nothing to say about the following players: Smitty, Sica, Mack, Collins and Mastorides.
Leigh Ann Salica is the best player under five-foot on the Killer Hills. She may be short but she is not short on talent. The Bayview Bashers washed out again giving the Killer Hills even more confidence that they are going to beat them when they face off.. Bob and Janet Fash got lost between the Bay House and Riis Park and missed the first two games. Have they been out of Rockaway that long? Cubby was asked for an interview but declined, stating, "I don't do interviews unless I am getting paid." Sounds like he has been hanging out with Barry Bonds too much. Just for your information, Cubby, that six-pack cannot be considered a support group. A Night Out took four games from Desert Island despite Billy England, who seemed to be infatuated with his own serve. Once again the MVP goes to JD. How things have changed in a year. Why is GW the only one out at Connolly's celebrating? Remember, atheism is a non-prophet religion.
Brian King was overheard talking to his wife at the bar, "Honey, I would kill to win a Noble Peace Prize."