Happy 4th of July RBVL
By Rocky D. and Katie Honan 7/3/15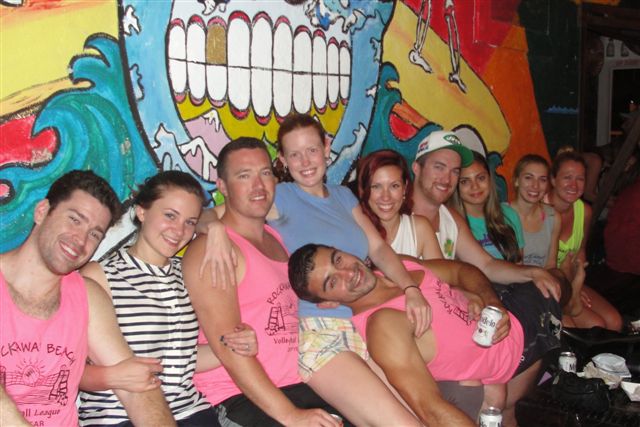 The Rockaway Beach Volleyball League was greeted by beautiful weather in week six; count your blessings. Can this beautiful weather streak last the rest of the season? Wine with Sue was happy that the full roster came out to play tonight because boss Denise is, "Old, tired, and doesn't want to play anymore." That's because she still tirelessly works for the RBVL whenever she's in town. (And sometimes even when she is out of town in Texas.) Team Margarita beat the Stanii four to one BUT it doesn't count because Team Margarita didn't hand in their rosters. (Only kidding.) A great match was played between the veterans of Freedhand's and the young guns of Hyper Athletics. Hyper Athletics took three out of five from Freedhand's, holding their own against the perennial champs. We'll see what the rest of the season holds for this top contender as they battle other teams in the highest division. Amazingly enough, Freedhand's is on a 2 match losing streak, about as rare an occurrence as the Venus-Jupiter conjunction. Bungalow Baranha's took three out of five against Le Greann, a familiar foe from previous divisions. It was cool for the Bungi team to see an old team back on the court, and while they exchanged funny quips it was a battle. Sonic Seany was the star as usual. The only thing bigger than his spikes and his ego is his new afro.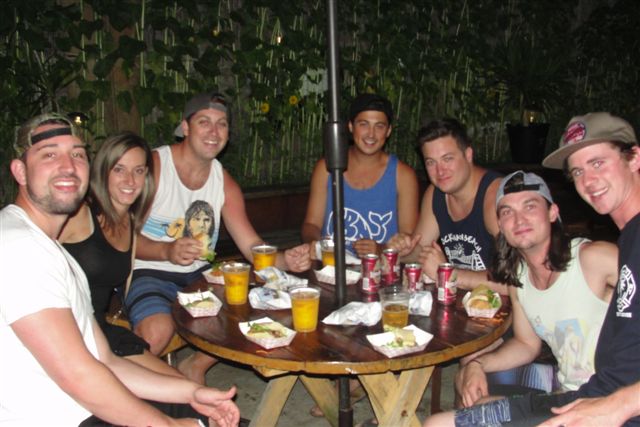 They, along with the IFMAs, were the first to arrive at the after party staking out the best spots at the Rockaway Beach Surf Club. Speaking of the RBSC, their team, the Sweet Potato Fries, the healthier version of the former Cheese Fries, unveiled their new American flag jerseys in time for the Fourth of July holiday. The jerseys brought them luck, and they took four out of five against LeGreann. Becky played with such intensity that she sprained her fingers on a set. And Banana Vasselman always brings the team together, and continued his high level of play.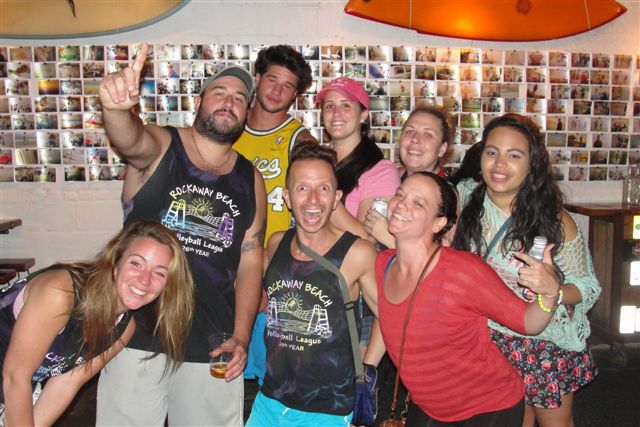 Billy Macs pulled out two games after losing three straight against EZ Company. The play was a little lousy at first, one player said, but they eventually got it together to bump, set, and spike by game four. The team, formerly known as Hamilton Hardware Hammerheads, renamed their team in honor of former player Billy McDonald, who passed away over the winter. They're playing in honor of him, with his son, Billy, 16, carrying them each game with spikes. They hope he can inspire a win in the championships so they can replace all the sweatshirts they lost in Sandy. EZ Company was lucky to get the three games. Mr. R was Gregtastic even without his special energy drink. Surfer Dude and Mrs. Dude are back and have no idea what they missed. Beast Mode missed the post- game ritual. Mister and The Sister bounced to The Ohio Players. Owen and Martins Laugh In was more fun way back before the back. Dannemora Dan says whatever you say, say nothing. Madame Invisible may be engaged to Claude Raines. Schools out but the teach sure showed them how to clap those erasers! The Commando Crusader lived to breathe another day. Sergeant Beach Chair figures everyone should have one by now. Lobster Boy talks a good game but can he melt the butter? Erin Blum along with the Notorious D.I.G's was picking on the old guys of Connolly's by continuing to serve and hit the volleyball to us, without giving them enough time to recover. She and the D.I.G.'s crushed Connolly's – next stop, a brand new senior division (Working title: Sand Crabs) with a slower level of play and more drinks in between sets.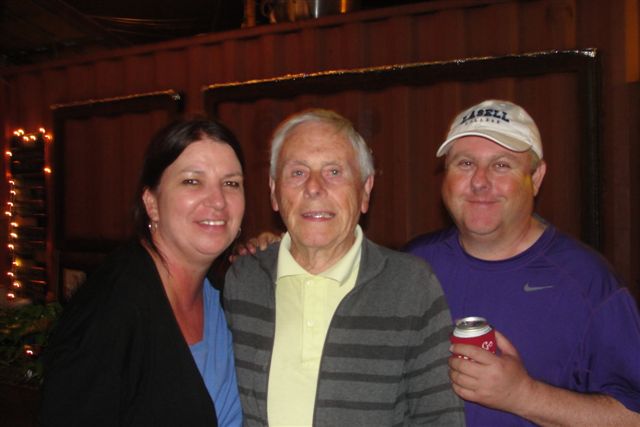 The RBVL Family welcomes Simon's Dad, Alfred Moule. People are quite charmed by him; he's a hip and happening octogenarian. Alf especially enjoyed his conversations with Mike Moran and Seal. Many more to come as he spends the rest of the season with the RBVL, only to leave days before the playoff extravaganza. How many people plan their summer holidays around the RBVL's schedule, but not those stubborn Brits. The last sighting before leaving Riis was Joe Courtney kissing Mr. Happy, knocking him off his bike, muttering apologies for rosters, late nets, etc. Only the shadow knows for sure but it was quite a sight. Where was our cameraman? Oh, Mr. Happy is our cameraman. Speaking of rosters, all tardy teams were apologetic when they handed their rosters into the very annoyed Patty and Denise, all except one captain from a team that begins with W and ends with S and a player from a team that begins with D and ends with L. They know who they are - NOT Acceptable. Casino Auto Body took four from (OTHER TEAM) before falling to them in the fifth game in a tightly contested overtime game. Lauren and Brianne affectionately call the Sunshine boys Auntie Joe and Auntie Rocky which sounds kind of charming, until Joe and Rocky found out that Auntie was short for antediluvian. The Moon division still remains the closest in scoring with only 5 points separating the top and bottom teams. Next week the standings could be turned upside down depending on the results. Right now the Channimals lead the pack, followed closely by Boarder's Surf Shop, IFMA's, DysFUNctional, Wine with Sue Island and the Odd Couples.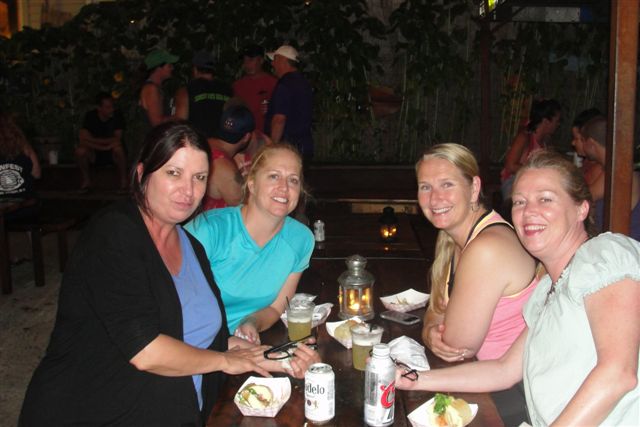 The after-party at the Rockaway Beach Surf Club, a new RBVL sponsor, was a perfect, chill evening with delicious homemade sandwiches from Andrew Field and reasonable drinks all night long; then again I've never had had unreasonable drink. The bar is currently displaying an exhibit from photographer Justin Jay with pictures he's taken of surfers all over Hawaii. When was the last time our post-volleyball party featured so much culture? Thank you to the RBSC for the beautiful, relaxing backyard space, the food and the great vibes. On the hipster cool bar ranking it gets a nine point two. With the large movie screen and clownish, macabre huge murals it's kind of like art house meets fun house.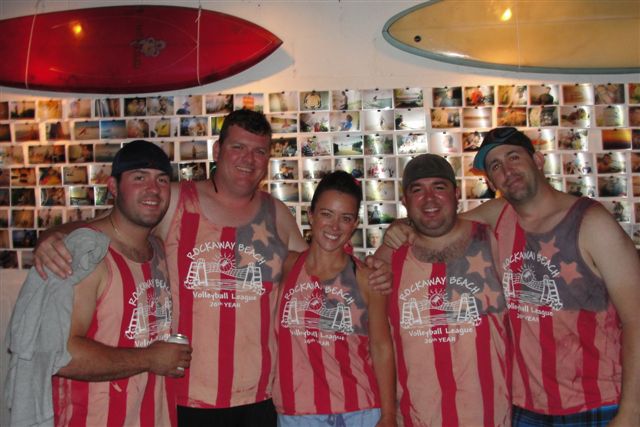 There's plenty going on at the club this weekend for the Fourth of July so stop by for a taco from Tacoway Beach and buy a few drinks. Players who were not able to trek on down to the Surf Club visited the Riis Park Bazaar after the nightly action and were once again treated to delicious food from diverse concessions. Included were fresh fish, barbecue, and fried chicken and two-for-one drink specials, put in place just for the RBVL.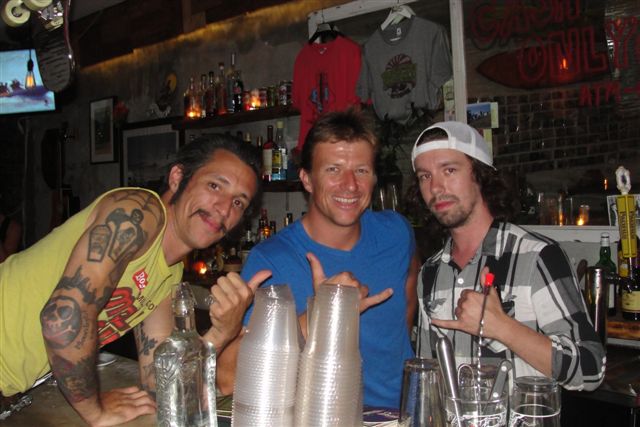 I have heard many excuses the past twenty six years for not wanting to re-enter the game so I thought I'd list them. Here are the Top five excuses for not going back into the game, unofficially known as the High Five: 5 - Don't want to get any more sand on my feet. 4 - Someone may jump in my chair and I won't get it back for a game or more. 3 - Don't want to bother taking my headphones out, again. 2 - I must have inhaled a piece of dust in my throat and need to roll cold liquid over it. 1 - Need to re-pack and re-arrange cooler due to amateur pack job. Water and Gatorade should never, ever be on top. (Cooler-packer must have been from Canarsie.) Last week's "Riis-stock" at Bay 9 in Riis Beach had it all: good weather, good music good food and good people; but the best thing wasn't what it had but what it didn't have: Kardashians. Although there was a sighting of Pia Zadora and Joey Buttafuoco strolling the boardwalk. The most unusual conversation of the night was Alvin Ailey getting tips on the importance of light graceful foot movement from Concrete Feet Flanagan. The RBVL is always striving to improve so we keep a symbolic suggestion box with us at all times. However, attaching six beverage cup holders to each net pole is not the type of suggestions we're looking for.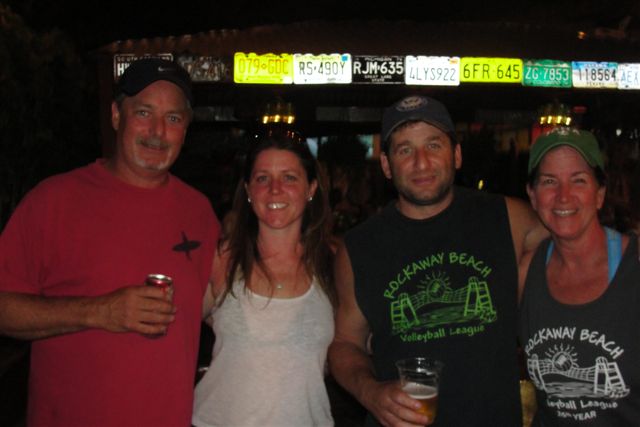 Next week's Bump Set, Sail, Cruise aboard The American Princess with Wine with Sue is almost sold out. A guy stopped me on Beach 116th street and asked me for change. He said, "Can I get a quarter I'm trying to get my kids back." I said, "Are they trapped in a vending machine?" Next Wednesday the wounded warrior parade is scheduled to come through Riis Park Service road at about six; as they did last year. We will notify everyone so they can show their support for the troops. NBA free agency began at midnight Tuesday night and early signings had the sports world abuzz. But the biggest signing Wednesday was the band for the annual Graybeard's Family Fun Run. Bugsy will be very busy hosting the festivities and the Grayriders are going to take a break from performing so Gearth, Wind and Fireman were called in from the bullpen from Bay Ridge to make some beautiful noise. The reason we mention it here is that GW&F feature our very own volleyball legend, Joe Abbracciamento, and several of his first grade classmates and friends. A few of the Rockaway faithful have crossed a bridge to the mainland to see GW&F but now everyone else can just run 5k and meet them at the finish line at St. Francis.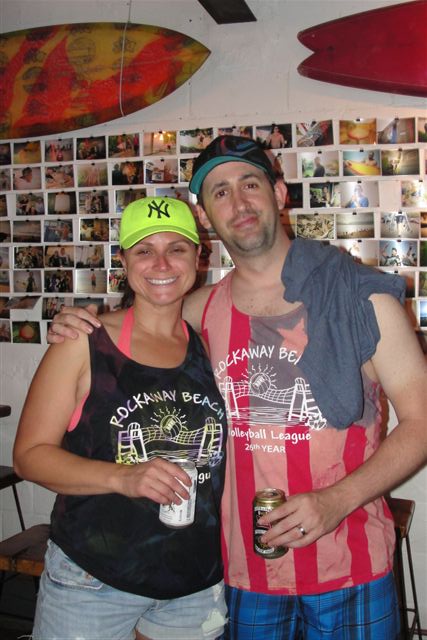 Remember, captains, if you do not have a referee at your court by 6:30 PM come up to the boardwalk and see Colleen immediately. We may have a standby ref available but you must see Colleen. If there is a clipboard at your court, bring it up with you. Thanks for your assistance. Sullivan and Galleshaw still have not picked up their uniform shirts; your sponsor can't be too happy about that. He supports you and you should do the same by wearing his colors. Rosters are also waivers and must be signed by players. For this reason and reasons of fair play, teams are not permitted to pick up players from the sidelines on nights they are shorthanded, not even if the opposing captain approves it. If you did not hand in signed rosters, you will forfeit all of your games from 7/1. Don't e-mail or call league officials with questions like, "We won 4 games but you didn't give us any credit in the updated standings." There is a reason; you forfeited those games. And you better get the signed roster in pronto or the same thing will happen next week. The fact we are still writing about this halfway through the season is a sad commentary on some of the teams in the RBVL. Just a reminder, since week one was cancelled due to weather all of those scheduled games will be played on the night we originally planned a position night. Position nights get bumped when the RBVL needs to make up a regular week. So you'll eventually see that week one opponent down the road. Captains are reminded that they can have team items entered in the weekly Wave article by showing up at the sponsor bar or by e-mailing Joe at jmcgivney2@nyc.rr.com by 11:59 PM on Wednesday night. The RBVL has a Facebook page and, if you like it, you will receive timely updates, whoever you are, captain or not. Your RBVL Committee members will be around each and every week to help out on any matters and answer your questions. If you have any questions please call Patty Moule at 917-613-0908. (Call between 10 AM and 9 PM.)