Forms
2018
Roster Form
RBVL Crowns 10 Champions
By Joe McGivney 8/14/15
Pirahanna's back to back champions




On Saturday, volleyballs flew all day on the sands of Riis Park as contestant's fought for the fabled winner's sweatshirts in the Rockaway Beach Volleyball League playoffs. The weather was an ideal 84 degrees, sunny and virtually windless and the quality of play seemed to match the quality of the playing conditions. Ten different division champions were crowned by day's end and the mood was both festive and bittersweet as the 2015 season ended and the joy of another terrific year was offset by the sadness that many friends would go their separate ways over the next 10 months, not seeing each other quite as regularly anymore. More than a few people were weepy! Nets were available at 9:30 AM and a Rockaway miracle occurred – everyone showed up on time and set up the courts promptly, for the fifth year in a row. At 10:30 AM, players were bumping, setting and spiking (and flubbing, fanning and whiffing) in heated playoff action. People anticipate each and every Wednesday evening when they could put aside real life for a few hours of volleyball, a couple of cold beverages and an hour or two on the dance floor. Saturday's tournament took that spirit to the highest level. The people lucky enough to be in the RBVL know it doesn't get any better than that. Commissioner Patty Moule outdid herself again although she selflessly deflected credit to her committee of veterans Rocky, Steve, John and Joe, Colleen, Mike, Liz and Theresa for a job well done. (And don't forget retiree Denise still helping behind the scenes.) Thank you all for making the season a great success and making Saturday one of the RBVL's most spectacular playoff days ever. Your camaraderie and friendship elevate the league to heights no other league enjoys. As always, the exciting games, food (Kudos for the delicious sandwiches and wraps) and music help but you are what make the day so special.

Freaky Tiki
The 4 higher seeds each won their first round matches in the Ocean Division but Gatemate.com just nosed out Sullivan and Galleshaw 20, 19 and 19 to advance. Round 2 action saw Freedhand's dominate rival West End Tents 3-0 and Gatemate beating Hyper Athletics 3-1 to set up a rematch of last year's championship. The caliber of play was as high as it has ever been and the games seesawed back and forth until Gatemate won 21-19 in the 5th set to take home the coveted championship sweatshirt. The Ocean Breeze Division was full of first round upsets as lower seeds Bella Casa, Jameson's and Federation all eliminated higher seed. Only top seed JG Electric held serve. JG stayed hot and entered the final without losing even a single game to face the Federation who beat longtime rival Jameson's 3-1. The title match was thrilling and was finally decided in the fifth set with a JG 21-12 victory. The Wave Division went according to form, placing the top two teams in the championship but Kobeyaki Got Kills was too strong for the Cabana, NYC and swept the finals 3-0 and the day 9-0, making them the only 2015 RBVL champion to go undefeated on Saturday. Can you say "Ocean Division 2016?" In the Beach, 8th seed Kevin C. Buckley Sandstorms upset top seed Rat Pack NYC 21-19 in the fifth set for the biggest upset of the day but they could not make it out of the next round, losing a tight one in five to the All American Hero's. The Hero's then lost a tight one of their own to champs Edison Place in five 21-12. That makes two titles in a row for Edison Place. The elevator is going up. It's rare that a new team comes into the league and wins a title. (Actually, it's just rare that a new team comes into the RBVL at all.) But that's what Eh-Stay did, beating Connolly's, the Breakaways and Kiss My Ace along the way in the Beach Breeze.

Rincon Gringos
All four top seeds won their first round games in the Boardwalk but then 3rd and 4th seeds, It's All Good and Team Margaritas, took down the top two, Rockaway Gliders and Rockaway Breakers in mild upsets. Team Margaritas finished off their quest with a 3-1 win against the legendary ones in spite of Coach Bugsy's strategies and speeches. It's All Good was hampered by the pulled calf (cow) of Cement Shoes Flanagan and the cramped calf (just a calf) of Alex Goldberg. So did the elder statesmen of It's All Good weep and leave the beach early after their tough finals loss? No, no, my friends. They cracked open the cooler, the backup cooler, the secret backup cooler and the battery powered music and enjoyed the best day of the year. That's right, an informal survey by Murph and Dickie established that the best day of the year in America is RBVL Playoff Saturday. Finishing second in the vote was Christmas followed by Groundhog Day and Arbor Day. The Sun Division was one of the tightest regular season races in years giving any of the 6 teams a good chance of walking out winners. Well who rose to the challenge? The same team that rises to the challenge on the dance floor each and every week – the Bungalow Baranha's. To win it all the Baranha's beat Le Greann, Perfect Settings and the White Horse Tavern Beach Posse, half the teams in the division. That's real good work. And two title in two years. It's 5 O'clock Somewhere ran away with the Sun Ray Division and was a clear favorite in the Sun Ray. They did not disappoint, running through the tournament easily. ServPro NW Brooklyn got a game off them in the final but that was their only slip up all day. The Moon division saw IFMA's reach the final round for the second year in a row but this time they came out victorious unlike 2014. A 3-1 victory over the Channimals will have them fitted for a new wardrobe – the much sought after hooded championship sweatshirt. The Star Division saw two teams go 3-1 in round one, 3-2 in round two and 2-2 in the finals. That means it all came down to the last game of the day. The two teams were Rathbones and BILLY MACS who battled tooth and nail until Rathbones won game five 21-16 for their first ever title. Well deserved. Over all, three #1 seeds, two #2 seeds, three #3 seeds and two #4 seeds ended up taking titles, showing how important it is to finish high in the yearlong standings. No 5th through 8th place teams won a championship.
The beach was spotlessly clean at the end of the festivities and special thanks go to two groups, the Gateway maintenance and cleaning crew and you, the players. Both would have made Felix Unger proud with their fastidious quest to leave behind a sparkling beach. Well done. Special thanks go to Rita Mullally for her great support and assistance to the RBVL throughout the years. Some sandwiches, wraps and watermelon were provided for lunch and the Riis Park Bazaar provided music all day although their volume level was considerably lower than the usual RBVL blasts.
Many players and fans expressed their heartfelt thanks to Patty and her colleagues throughout the gorgeous day. "I wait for this day all year." "Every Monday I feel depressed and blah but thinking of Wednesday nights picks me right up." "I can't fathom how much work goes into a day like this." "You and your team do a phenomenal job every year." "Look how many people are here today, all because of you and your team's hard work." "Look back to when you took over the league in 2001 with 19 teams and immediately expanded to 32 teams. Now there are 76 teams and that is a huge achievement." Patty and the RBVL committee would like to say, "Thank you," to all the well-wishers for their kind words, hugs and kisses on Saturday and all along the way. And thanks to all who helped out on "Playoff Saturday," reffing, tracking scores, updating the scoreboard and basically doing whatever was necessary to make the day run smoothly. And a special thanks to two young ladies who worked all year with their parents and did an amazing amount of work, Caroline Gifford and Juliana Moule. Well done! Let the vacations begin. Now that the season is over everyone should feel free to take a trip.
All of Rockaway is getting a bit verklempt just thinking about the season coming to end. What the RBVL does for Rockaway is quite magical. Just because the league is officially over doesn't mean that the volleyball games must stop. Action should continue around the beach for several more weeks. The Riis Park Beach Bazaar wants to keep the fun going on Wednesdays, for another 4 weeks of beach volleyball. Starting Wednesday, August 12, they will begin a rec league designed to be a competitive but fun extension of the RBVL momentum. They'd like to encourage full or existing teams to sign up this Saturday at the sign-up table they will have present. Individuals are welcome too -- solo players will be placed appropriately on a team based on skill level. Email Alex Moule or Ruth Gilwit for further information: alexandermoule3@gmail.com. rgilwit@rpbeachbazaar.com.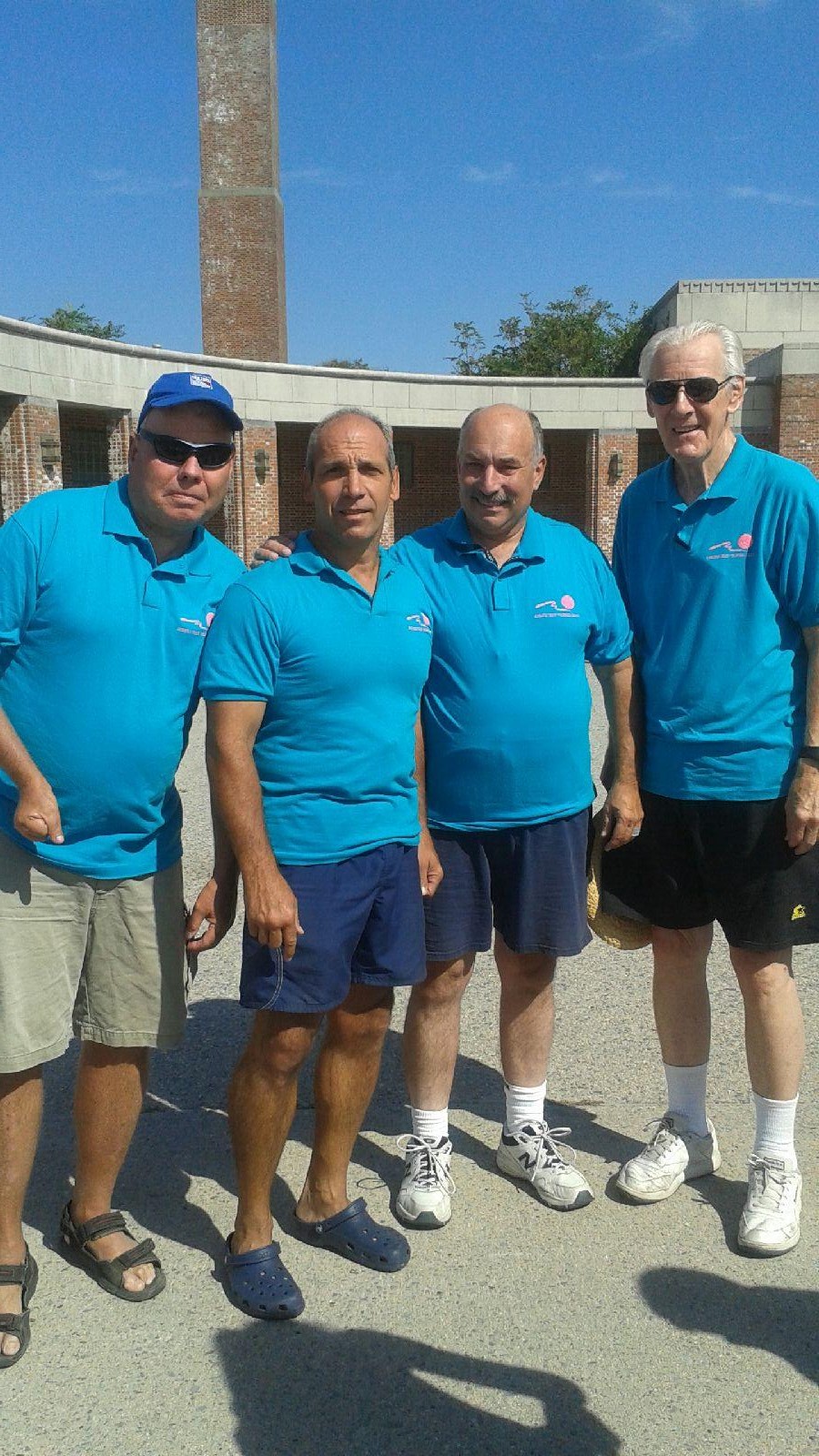 Don't forget to check our website at www.rbvl.com. You'll find a lot of playoff pictures shortly. For 2016, opening day will be on Wednesday night 6/1 and the playoff Saturday will be on 8/13. Please respond to all invitations to weddings, christenings, parties and car dealership openings on that date with a polite, "I can't make it to your silly affair because I will be at Riis Park with a thousand of my friends from 10 AM to 10 PM having more fun than a barrel of monkeys." If you have any final thoughts or comments please call Patty Moule at 917-613-0908. (Call between 10 AM and 9 PM.)
See you on the beach 5/25/16 for RBVL practice night.