Forms
2018
Roster Form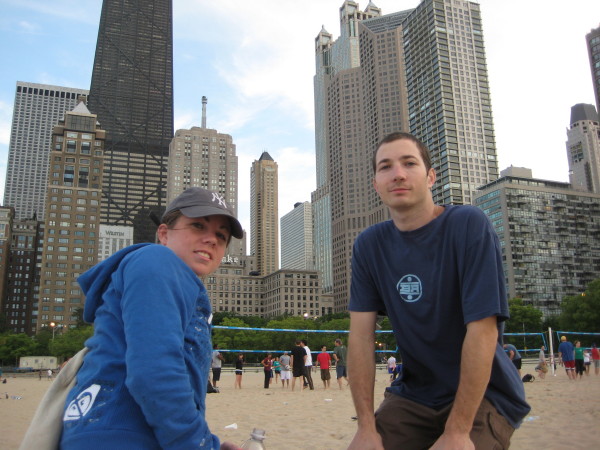 Thunderstorms and Tornados Can't Stop the RBVL
By Rocky D. and Joe McGivney
When Frankie Valli sang "Oh, What a Night" he must have foreseen Wednesday's weather. Under ominous skies, some would argue threatening, (personally, I would go with looming) President Patty yelled out, "Let the games begin." Indeed they did. Peggy Johnson immediately ran home, explaining that she and lightning don't get along very well. She wanted her husband, George, to know that she could be reached by cell phone under her bed. Could that be considered lightning fortitude? Simon Says Sea Bar would like to thank Denise Brunner for being the only person on the entire beach wearing her sunglasses as the tornado went by. During the match she had a category three dig but unfortunately her husband Jack came up short on the return play. Simon and Patty are off to England on Friday. Simon picked up an American and Kings English translation dictionary for Patty. You have to tip your hat to them for scheduling their flights around the league schedule. Sands Point lost to Harbor Light 4 to 0. It must have been the wind – but it only seemed to affect Sands Point. Does anyone want to buy a bridge in Brooklyn? Brendan in the back and Neal in the front kept things close but obviously not close enough. Kaitlyn spent most of her time helping Jessica extricate herself from the sand. Jessica was so sand-covered that she entered herself in the local sand sculpture contest. Sands Point Physical therapy bought a sand remover to treat this week's volleyball patients. Carolyn Bradley had the best game of her life and single-handedly led Coppersmiths to victory in game three, completing the rain-shortened sweep. Cubby hurt his neck surfing and combined with the thunderstorm prediction decided to skip volleyball for the first time since the Reagan administration. He was last seen hiding under the bed with Peggy Johnson. Hey now! Patty wants to thank everyone, referees and players for playing in such undesirable conditions, and without sunglasses (save Denise Brunner). The biggest thank you of the week goes to Steve Gifford. He took equipment management to new levels by hand-drying each and every individual score sheet. Now if he would only come over to my place and do my laundry!

This Chicago league has 50 nets a night, 5 nights a week. the nets are on top of each other and there are no refs.
First place in the regular season is still up for grabs in seven out of eight divisions – in the Ocean between Freedhand's Dynasty and the Sugar Bowl, in the Ocean Breeze between the Flip-Cup All-Stars and Coppersmith's, in the Wave between Brooklyn Window & Door and the Sand Spikers, in the Beach between the Bay House Babes and JG Electric, in the Boardwalk between 3rd and Long NYC and the Kerry Hills Pub, in the Sun between Average Joes and Sets on the Beach and in the Star between Last Call and the Atlantic Service Sand Storm. In the Moon Division, Simon Says Sea Bar has a mathematical chance against Le Greann but it would take a near miracle since they are five points back with one week to go. The last week of the year is a position week in the Boardwalk Division but the final playoff spots are all but decided already. Right now, the Harbor Light Brooklyn Transplants have been eliminated from contention and Rathbones is on life support as they will need a 5-0 win combined with a total collapse from the Bayview Baracudas to tie for the last playoff spot. Of course, the 9th and 10th place teams will be invited to play each other on 8/8 for their very own championship. There might even be a case of beer in it for the winner. And these two really know what to do with a case of beer.
Le Greann wins for the best cheer-leading during the lightning show. Bay House Babes and Its All Good battled it out but it wasn't the same without Concrete Feet Flanagan and the Big Guy. They missed v-ball to see a Partridge family band in Newark. Apparently, they are trying to recruit Danny Bonaducci for next year's team. He doesn't play volleyball but he has extensive "cooler experience." What's up with Connolly's? Steve G. was a no-show and was last seen heading to Mexico looking for a missing net. Dickie Ferin got the call form his in-laws with the stern caveat, "You live too close to the Sugar Bowl not to come; get down here now!" In true "Ferrin Fashion" he rode his skateboard over. There is no such thing as BWB – boarding while bombed. Terry Ganun was invited to the Sugar Bowl by her husband Frank and was so thrilled she went out and bought a Tom-Tom GPS to locate the place. When she arrived she exclaimed, "Hey, this place is on the beach!" Robin Shapiro wants to thank Sam the ref for explaining the definition of a carry. Colleen missed her VBF (Volleyball Best Friend) Denise at the Sugar Bowl but had a great time with Simon Says. Does she mean the game Simons Says or the team? Ref Tony Carty was asked if he was going out after the games. He replied that he only goes to the Sugar Bowl, located 1500 feet from his house, on Friday for Senior citizen night when it's half price or if there is an early-bird special. Tony has been directed to Florida for the type of economic atmosphere he is looking for. Where were our top two party teams, the Rockaway Breakers and the Bar-anhas? They are both losing credibility. Watch out for Le Greann, who are coming on strong.
The league headed west for its second stop in Breezy Point at the Sugar Bowl. Unfortunately, the dreaded Sugar Bowl jinx once again brought rain, thunder and lightning and severely impacted the number of party-goers. The outdoor lighted sand volleyball court could not be used and many grudge matches had to be cancelled. However, the party was like an old-time hootenanny with plenty of good food and down home entertainment provided by the voice of Jenna Baker and the guitar-playing/voice of Bobby Butler Jr. The scaled down version of their band, Indaculture, worked like a charm. Players feasted on the great and plentiful 6-foot heroes, including the traditional Italian style as well as a spicy Buffalo chicken cutlet extravaganza. Also, the kitchen was open for everyone to order from but there was a twist for the RBVL. Everything was the same price – free! When the refs hear this they will be sick that they didn't make the journey into the coop. The end result – there was plenty of tasty food and good tunes all night long. If you missed it, you missed a good one. Our roving reporter has added his two cents worth: The Sugar Bowl weathered the storm with delicious dueling heroes complimented with greasy cheese fries and hot wings to order. Cool off with frozen twisted teas. The Bowl gets an A+ in my soggy book!

The date has been set for the annual RBVL Awards Dinner and that date is Friday, August 28th. Many of you have asked the league to hold the dinner in August rather than September and we are going to give it a try. Line up your babysitters and car services and make preparations. This year we will be going to Jameson's at 421 Beach 129th St. from 7:30 p.m. to 12:00 a.m. The cost is $50 per person at the door or $40 per person in advance by 8/21 to Patty @ 550 B. 133 St. The price includes an open bar, bottled beer, buffet dinner and music by DJ Bobby Joseph. As you know, Jameson's is a relatively small restaurant and we can only accommodate 140 people there. You may think that's crazy since we occasionally bring 300 people to some of the bars during the season. Well, the RBVL Awards Dinner has never had more than 140 attendees in the past and we are going to give it a whirl. If you want to make sure you are included, get your money to Patty ASAP. Dress casual and wear your best Hawaiian shirt; it should be a blast once again.
We have alerted Shore Car Service (718-474-7100) that the RBVL traveling circus is making its next stop in at the BHYC. They assure us that they will continue to keep on extra drivers for us and they will not be far away if you call. Let us know how you make out if you try them. Finally, remember to take a garbage bag or two from home for your empties at the beach and toss the whole bag into the dumpster as you walk to the parking lot. You've been doing a great job; please keep up the good work right up to the end of the season. Now for your weekly reminder and countdown – there is only one more week left in the regular season. The last regular season party of the year will be held at the Belle Harbor Yacht Club on 8/5. Don't hold anything back on the courts or afterwards at the party. Make sure you mark your calendar for the 2009 RBVL Playoffs, which will be held all day at Riis Park on Saturday, 8/8. As always, if you have any questions please call Patty at 917-613-0908. (Be sure to call between 10 AM and 9 PM. Remember, Patty has a life outside of VB, too.) Or just check our website at www.rbvl.com. You'll find the answers to most of your questions there, not to mention pretty pictures and funny stories. See you on the beach!
RBVL'ers Complete FDNY Triathalon