WEEK Three '07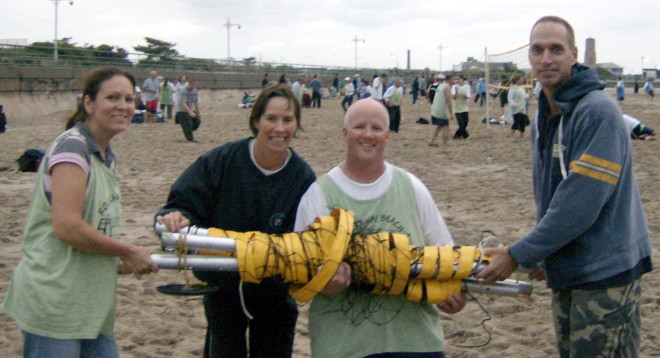 The Battles Rage On
By John Sica
Week Three saw a mostly calm, cold, partially rainy night. When you think about it, it was actually almost perfect volleyball weather. Many matches were intense close battles that shaped the standings in each division.
The top division saw the sisters go head to head to head. The division leading Mark's Maintenance faced off against last year's champs, Freedhand's Yankees. Different team, same result. Freedhand's took the match, 4-1, despite falling behind early in some of the games. Mark "A"iken brought his A game, Sister No. 1 (the winner) and Richie were clicking. Even Regina and Richie were clicking. The only ones not clicking were Jack and Craig who were clacking, but they finally clicked at the end and everyone left friends. Note to all league members: Scotty Hendricks is back, look out! Casino Towing got thumped by Sullivan and Galleshaw 0-5 but the score sheet showed the losing team as Abracadabra as ref, Easy Ed Savage refused to recognize their new name. When the rains came, Kevin O'Malley overheard one of the ancient ones exclaim, "It rained at Woodstock and we didn't leave, we're not leaving now!" Casino lowered their average age from 49.8 to 37.4 when they promoted their star AAA player, Sarah McCarthy to the starting lineup. She wowed even her opponents with her all-around play and her 8 consecutive service winners, almost single-handedly taking game 4. Since turning 40 Tommy D. has not lost any height on his jumping but he does have to build little sand ramps at the net to help himself out.
The last people on the beach every week for the past 27 years have been Cubby and Jimmy Mack. This week though the torch has been past to the most unlikely of all candidates. The top division, normally known for their " play and run" attitude braved the wind and stayed until Cubby climbed the last step to seek the shelter that the old buildings provide from the wind. Cubby was finally defeated by a pack of rogue drinkers from the upper echelon of the league. The names Aiken, Butler, Polish Jack, Keith, Katy Green and others, braved the 20 below wind chill factor just to defeat an old champ. That is the competitive spirits that live in their brave souls. And in a late breaking development, Cubby was seen leaving the post game party at the Harbor Light before "A"iken and his posse again, completing the double-header sweep.
For those who are smart enough to abandon the chilly June beach, the Harbor Light had a great spread of food to feed the masses. The Pepper Steak, London broil, Ziti, Sausage, Meatballs and Beef Stroganoff were excellent and plentiful. Everyone was happy to have a hearty meal to warm their souls. That makes two weeks in a row that the players couldn't eat the sponsors clean. The Kerry Hills and Harbor Light get it.
WWW.bhyc.com was mistakenly credited with no wins last week when in fact they report they won one. Once again this week they also won one game, (got that Joe), and they were very competitive in at least two other games. Against the Wave this week there was outstanding play by Marty McManus and his old prom date from 1996, Betsy. Additional all-around play from Kenny Courtney made the competition close. Excellent serving by Jenn Kelly and coach Dan Collins also contributed to the competitive match. Rob Schmitt made some wonderful dives and should consider wearing a helmet next week. Betsy wore a fashionable headband only because a baseball hat gets in the way of her serve. The only thing that doesn't make sense is that she serves underhand. Go figure.
Jay Butler must have got a hold of Chris and Finn's volleyball playbook to help Jameson's 3-2 victory. As Chris prepared Finn for the 2020 season with a "how to" book, Jay stole a page and blocked his best shots, leading to the victory. The Lady in Red, "TC" finally shared his umbrella with his saturated teammates. The greens definitely, maybe, made it to the Harbor Light. Both Bradley sisters should be commended for wearing matching outfits. That was meant to confuse the other team as per Jack's orders.
After first being mistaken for David Hasselhoff as he jogged in slow -mo out of the water, CB was immediately identified as a tap-out when he showed up at the lantern on the beach with Sean's thermos full of water.
Every year the Battle of the Sica's is a highly anticipated match. Although the Flip Cup All-Stars hit a crater along the way in game three, they still managed to dig another hole in the Ozone Layers. The Layers saw leads in game four and five depleted as the harmful spikes of the sons got through the protective layer. For the Layers, Chris Howley is making strides to return to his former "Rain Tower" glory. New additions Julie and Elle are leading the team in the right direction but unfortunately the old players are leading the team in the old direction. For the All-Stars, great setting and serves by Liz Murphy and Katie, cross-spiking by Kearns and Mikey, and great serves by Brian Sica helped to easily handle the Layers. The sideline spirit of Leigh Ann and Phyllis carried them to four wins. Phyllis Kearns and their family extend their gratitude to all those in the league who remembered her brother Liam Newman in their prayers.
Boarders Surf Shop defeated the formerly number one team, The Beach House, 3-2 in a great match. Boarders is thinking maybe they are better without Christian, since they won the last two weeks without him. Lindy rose to new heights to spike the winning point in the crucial game four over a man twice his size. Like we said two weeks ago, size doesn't matter - over direction. The girls were mad that this reporter lied about flashing in an article two weeks ago, so they made him an honest man this week.
The Irish Circle Transplants took down the Pier 92 Piranha's in a close match. Cindy, in the quest for the perfect game, served 20 points in a row. On the 21st serve Chris, her husband, decided to tackle the net to ruin her chance for volleyball immortality. Binger was a strong force on the beach tonight, but then again he was relieved because he left a Manhattan apartment for $3,200 to go to a Brooklyn apartment for $1,600 before finally being Transplanted to Seaside for $1,200 where he can finally concentrate on volley ball instead of his bills. Perhaps a cardboard box under the boardwalk would make him a superstar. The Crown Heights lawyers are hard at work not only retrieving their Brooklyn name but also retrieving his car from impoundment, both of which is not looking good until next season.
Jameson's Transplant's had a devastating week against Sands Point dropping four games. The "Three Reska Rule" was not violated since Rose Reska was the only one there. The other 23 Reska's were held back by the fierce storms in Brooklyn. Roddy, coming off suspension for his egregious violations in the playoffs last year, was a force in the first game but requested another suspension after that. Red-head Shrek, was a force at the net but couldn't carry the team.
Patty's team (Bay House Babes) beat Steve's team (Connolly's) on the court, but Steve beat Patty at the bar when he put a used Buffalo wing in her hand. Steve says that Janet is picking on him, but Steve has nothing on the Commissioner of the Dept. of Parks. Where was Bobby Fash? Joining a 50 and over VB league? Who is Glen Pfister? What is a Rich Maloney? Are they afraid of the foul weather, or were they shopping for waterproof women's dresses at the Rainbow Shop at the Junction with Jack Meade. Tom, Sean and Steve were the last one's at the bar. Laura went home early even though the dress shops were closed. Connolly's is just waiting for the playoffs. (Three and out) Twenty-five more weeks until the big day! Steve's in, how about you?
Breaking news, just found out by the Commissioner herself that she stacked her team. She apparently pilfered through the roster of Mike's team, and stacked her roster with the two Fraser boys. Talk about a girl that wants to win, what about that "Let's go out and play for fun!" Astoria spirit. No wonder she left the Ozone Layers to form her own team. The Rats will meet you on the beach. They are not intimidated and they will take you down.
A Night Out wants to congratulate Jenn as MVP for the night. Her atmospheric gyrations have lifted the team to new heights. Fluffy was grounded because of a Stepping Up. Maybe next week he can "step up" to Jenn's gyrations. Where was Bugsy, was he busy for a change?
What happened to Frankie D from Last Call? He had to leave early because he had an bocce tournament. J and J only showed because the backhoe was on the boulevard. Where was momma's boy? With his mother? Rumor has it that Costanza was involved in an ugly towel snapping incident because the KEG was skunked. Spike played even with her injury. How come ZSA ZSA couldn't come out from under her umbrella? Mad Dog Ryan thought he was on his game tonight. Thank goodness his better ½ had his back. McGyver was happy in the corner being serenaded by Johnny Cash. Volley Ball Rule #1 for 2007 - Ziploc bags for freshly pedicured feet are allowed. This rule applies for both women and men. Where was Nay? Applications are being accepted for your position as we speak.
Sands Point Physical Therapy beat the Transplants 4-1 thanks to the great setting of John Brennan and Jake Touhey, the solid play of Steve Wallace and Kaitlyn Touhey and the athletic ability of Walter Ward. Walter must have had that old police training because he was diving all over the place like there were shots fired. With all the injuries suffered this week on the wet sand, Sands Point is the place to go.
Simon Says Sea Bar took five - wins this time! Cathy LaC and Mike MaC stole game one with their serves. Billy Mac was right on the mark with his call for a timeout, despite the fact that his entire team ignored him - again! Welcome back Jimmy C (brace and all) even though you never played before and still haven't. Tommy LaC we need you on the court, not on the bench as a coach. Attn: Brooklyn Transplants - 129th St. is not Avenue U, so don't block me in with your double-parking.
Cheese Fries had a great night despite winning only one from the Sand Spikers this week. The only cheese fries worth eating were Jaime and Jenn. They are the only ones hanging out. Boarders will be hoping to eat Cheese Fries next week but don't be surprised if turns out the other way around.
Robin Shapiro's Island is happy to have the Beach Orphans back in the division since they beat them 4-1. To celebrate the victory, Donna is teaching the pseudo-Rockaway people how to play quarters and of course Donna and Denise are winning. Heidi and Susan got their game back after four years. Not after four years off, just after four years! It must have been the weather.
The New Irish Circle took two from the Aviator. They would like to thank coach Erin, The Fugitive. She was trying to pedal an excuse about a bike accident. Everyone played nice until the rain started and then all excuses broke loose for the Irish Cricle. You would think the indoor team of the Aviator would have complained but no, leave it to the cry baby's to whine about the wind, the rain, the sand, and the piping plovers, or whatever other excuse would get them through their misfortune. The teams would like to welcome some visitors from Palermo, Italy - Matt and Surenter , who cheered them on.
The Kerry Hills team was on fire and Melissa (serving) and Steven are really fighting for that very important MVP title of the season. Stone was again MIA , where could he be? Rumor has it that he was sitting on the bowl all day or did he sneak off to Sandels again to spend time with Elmo and Big Bird. When will we have a game without the Hutton's getting into some kind of argument? Joe, let Noelle do her job and just play the game. There were great plays by Egan and Sean. And welcome to our newest member Tim Henning. You've made the team - barely.
The Volley Warriors had a great night until the rain came down. Who knew they were so scared of a little water? Terrance hustled for every ball; Paul F. had amazing serves and Heather and Selena enjoyed being out on the court. Thanks to our special volunteers Danielle and Matt for getting the game going. Too bad that the athletes are better than you Matt. Keep practicing. The special athletes are always looking for additional volunteers to give them a hand so if you're free, come on over ( we set up next to court #9). Thanks to RBVL for including us this year; we are having a blast. Special thoughts and prayers to our friend, Maggie Kelly. We love you!
And finally John Sica would like to add a fact that he omitted from his column two weeks ago. The food at Jamesons was of the finest quality. The spread that they put out was top shelf, especially the shrimp that he stacked on his plate like so many others.
Next week's party is at the Irish Circle. See you on the beach!