Forms
2018
Roster Form
Week Six '07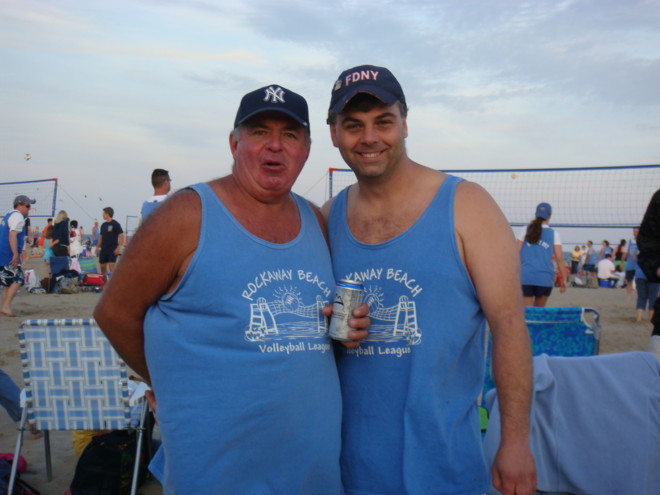 Beach Volleyball and Beach Party Extravaganza
By John Sica
Incredible! If anyone wants to know the significance of the Rockaway Beach Volleyball League, just come to beach party night. It is a night under the moon and stars with your closest 600 neighbors. There is no single organization or event that brings out the community like the RBVL for 12 summer nights each year. Despite gusty winds the masses huddled listening to music and talking to neighbors under an almost full moon. It is people enjoying the Rockaway life to the fullest. An event that brings out the best of Gateway, using the National Park to its fullest. Imagine if it was nice out. I wonder if you can. You may say I'm a dreamer.
Ryan D. did a great job spinning the tunes all night and Jimmy Mack brightened things up – no, not with his smile – with his lights! Thanks, Jim. Food was still being shared around midnight, just as it had been shared all night by one thoughtful team after the other. Mary Whelan's wraps were commended by many a reveler; maybe she should cater the league dinner. You know it's a long and good night when the stories include flaming leaps off of the Marine Parkway Bridge and quotes from our own resident Irish existential philosopher (TBG) – "Fail better!" We can't go on to the stories for this week before recapping one game from last Wednesday. In the middle of the looming lightning storm, Mick Castellano served up a perfect game. That's right, he hit all 21 serves in and his Team Margarita won each and every one of them. We've had a lot of close calls but this seems to be the only perfecto that anyone can remember. Good on you, Mick!
CB heard it was a late night party, so he wore his nightgown. It didn't help, Casino Towing lost four. Sullivan and Galleshaw played Freedhand's on the "court" and after a lengthy summation, Freedhand's won 3-2. It was a moral victory for S&G, but as we know the courts don't care about morals. At least they knocked the reigning champs from first as the ever-improving Fillmore slid past them. Like the Yankees, dominance seems to be slipping. In an unconfirmed report, one of Freedhand's spouses was seen wearing an F U shirt at the game. The best matches in the Wave division are always between Jameson's and the Ozone Layers. Every game usually goes to 21-19 or OT. For years the team that makes up the Ozone Layers would find a way to beat Jameson's but since last year's semi-finals, Jameson's has had their number. This week it was 3-2 Jameson's.
The Volley Warriors have shown vast improvement over the summer. Their serves are getting in at a higher percentage than the gross national income. Their volleys are getting so long they are getting bored. Paul would like to give kudos to Terrance for his team play. Heather was strong on her serves, and Alana was hitting it over with consistency. Patrick and Paul himself played strong games.
Kerry Hills unfortunately lost 4-1 to Sands Point PT, yet all the games were tight. The strong wind was a factor, but obviously Sands Point was able to cope with the sand in their face. Donna was wearing a hood and sunglasses that made her look like a certain imposter fireman in the news lately according to her brother in law, Jimmy. Peggy was recovering from Achilles surgery and watched from her rolling beach chair, a wheelchair on the boardwalk. John Brennan had killer serves, and the secret weapon, Carol Farrell was inserted at the end for insurance. Too bad the policy expired! At least Sands Point didn't lose all together. Every week they get new customers from the league, as players are dropping like Piping Plovers. Cody must have been eating her Wheaties all week with her strong serves and great all around play. Mike Stone is still MIA. One theory is that he is still in Beaches resort or Disney with Mickey. Deirdre and Joe had to leave early, and that was when the Hills finally won. Makes you wonder, huh? Great plays by Timmy, who barely made the team in tryouts, surprised everyone. Kerry Hills will start their warm up games at Riis at 5:30 since they do their best in the last two games.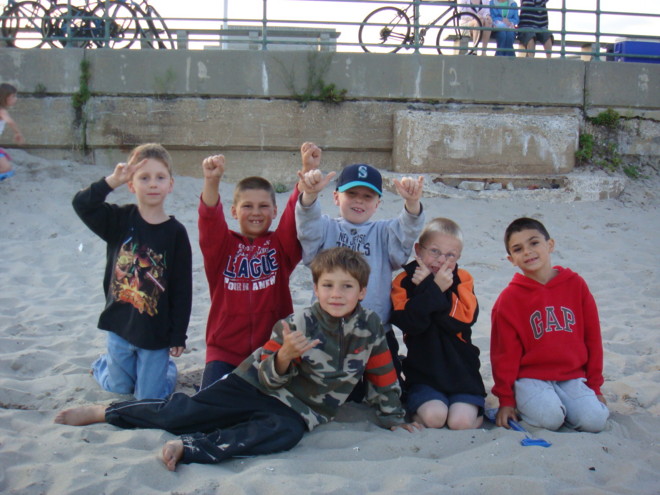 The RBVL 2020 Champions
Eileen of the Beach House was sorry that there was no volleyball this week. There was wind ball. Maybe it was fitting that it was right after the weekend of the kite festival. Perhaps the ball should have had strings attached. Eileen supplied the best homemade brownies but unfortunately Steve Gifford, Joe McGivney and John Sica ate them all. They won all five against One Win Away but were impressed with One Win, because One Win played two full games with all women and were just as good. Perhaps they should be called "One Man, Go Away." Connolly's won 4-1 over Aviator and found out what a Rich Maloney is. Their big ringer stud from Breezy finally showed up to show what they're missing. He couldn't even lift a beer because his drinking shoulder is injured. Steve had to hold his beer and feed him like a baby. These are the things you do when you're the captain. Too bad next year when he's better he will be in the first division. Steve who? Connolly's is finally jellin. Look out Beach Division, Connolly's wants sweatshirts that fit this year. They won four, but got six - a six-foot American and Italian hero that fed the masses ! Twenty-three more weeks to the big wedding for Kevin and Kathy. Seating is limited, so act now.
The entire Team Federation was present, even Danny who left work to play. (Who was left running the store?) Was it Christine's song to the Dancing Queen or Danielle's necklace that led to one of her best games. The Bay House Babes put up a great fight but Club Fed kept it together by playing as a team, calling the ball and won 3-2. Captain Tom is finally happy and told Mary she might finally get that sweatshirt! When Tom is happy the other Mary is happy too. Thanks to the cheering section of Thomas, Brian, Patrick, Nicholas and his brother. Team Federation was the last team to leave the actual beach, staying on the sand through mighty gale winds. Bobby Mac led the way with illumination from his lanterns. In fact, he was caught sending out Morse Code to Cubby and Jimmy Mack in search of reserve brews. Jimmy, those wagon wheels of yours are tiny, especially when compared to Mary's big ones!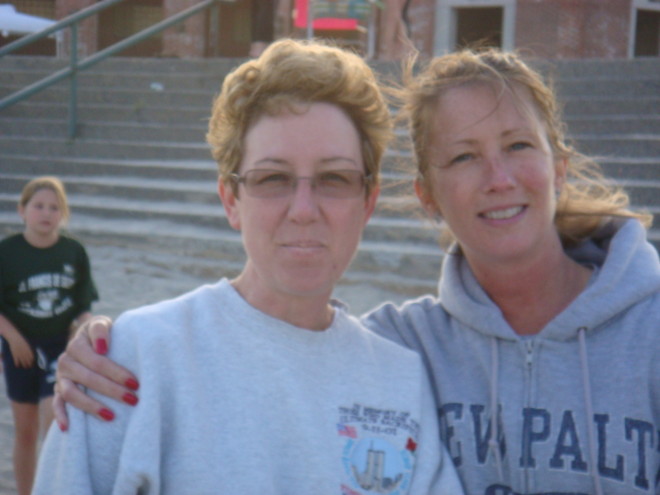 The Irish Circle Transplants again failed to win more than two games against a determined Harbor Light team. Unfortunately Kevin Coursey should stick to table tennis, aka ping pong, due to his failure to spike the ball over the net twice causing both teams to laugh at his muscular body. The Blarney Castle continued to dominate the division beating the Pier 92 Piranha's 4-1. However the Piranha's have still maintained the title of the most fun team, taking their defeat in stride and playing with heart. The match was closer than the score, and the Piranha's left with smiles, which is what it's all about. This article has to end now because this reporters hand is hurt because of Paige's hard high five that caused a debilitating injury. Her handstands and flips on the beach must have bulked her up. Ouch.
Next week the party will be hosted by a new sponsor, the Lobster House. Make sure you stop by and spend some time at the back deck on the water. See you on the beach!