Week One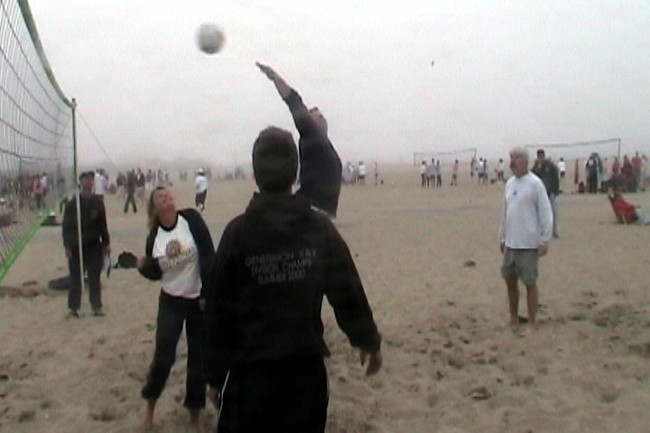 Jimmy's patented "Mack's Back Slap" move powers Bayview Bashers to 5-0 victory.
RBVL WYSTERIA LANE SAGA CONTINUES
The RBVL season began Wednesday night at Riis Park with 600 players bumping, setting and spiking their way around the beach. As usual, the rest of NYC was drenched in sunshine while Rockaway was cool, misty and foggy. However, true volleyballers know that those can be the best conditions under which to play and the results bear that out. Most of the matches were closely contested and only a handful of teams remained undefeated through five games. Teams that moved to higher divisions had mixed results with the Rogue Sharks, One More? and Fillmore splitting their matches while the Mahooshkas and the Sunset Bunch came up empty. The Killer Hills, Sands Point PT and the Beach Orphans all moved down and won 4, 2 and 1 point respectively. New teams checked in with similar mixed results: Team Margarita 5, the Mighty Boosh (or It's All Better) 4, Papa's Pizza 3, Boarders Surf Shop 2, McMahon's Irish Pub 1 and Simon Says Sea Bar 0. Jameson's supplied the 6-foot hero and pasta and changed it up by adding shrimp to the menu. Nice touch! Another nice touch was the addition of cocktail waitresses. The beers were cold, the bartenders quick and to the rescue at times. Thanks for squeezing us in!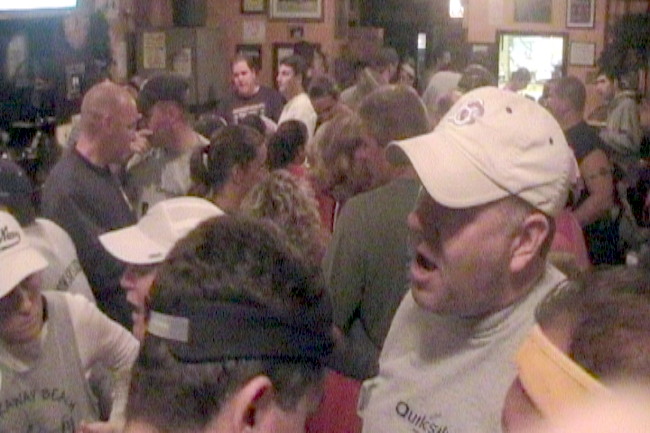 The joint was jumpin!
The first volleyball injury of the season was sustained in typical volleyball fashion when Cubby cut his hand open slicing up limes for his 2 cases of Corona he brought down for the game. League officials had made preparations by having a paramedic present at the games, but unfortunately the paramedic was Cubby. Thank God his good friend Jimmy Mack was there to help the wounded Cubby and help cut the rest of the limes for the Coronas. After all, what is a Corona without fruit? The amazing thing is that Cubby could be standing naked on the beach wearing only his flip-flops and he could still open your bottle of beer. Just ask him how next week.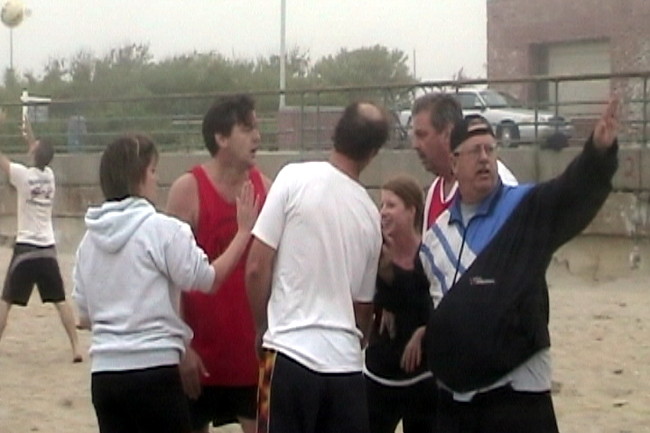 Joe waves to fans as team discusses crucial upcoming point.
Was that Captain America who made an appearance in Rockaway during Memorial weekend? In fact he sported a fine looking Red, White and Blue jacket supplied by Kerry while cooking for the crew at the Compound. And does flammable really mean flammable? Standing a few feet away from an open flame won't help. Who is this man you ask? The season is still young. Stay tuned.
The battle of the law firms took place in the top division when Freedhand's Court Champs, last year's best team, and Sullivan and Galleshaw faced off in the battle of the week. S&G won the first game putting the Court Champs under .500 for the first time ever. Marie, Bernie, Jack and company were not happy. They responded by winning the next two games, improving their record to 2-1. The world was back at peace - until games 4 and 5. Game four was hotly contested with Galleshaw winning and in game 5 the final point was heading long as Marie called to her teammates to let it drop, and it dropped on the rope leaving the Champs tied for sixth place at 2-3. Kelly O'Malley, who graduated from St. Francis College at 11:00 AM the morning of the game, was a welcome addition to the winners.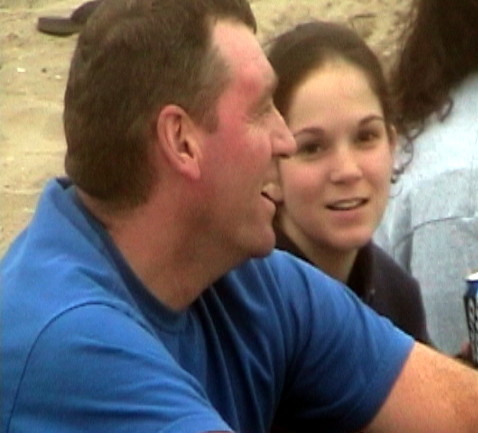 Leigh Ann welcomes Pete back to Killer Hills
The Beach Orphans may have won only one game, but they did have five coolers. They were sucking down Buds all night. They just don't suck, they suck hard. Welcome back Christine O'Connor, who played fabulous after an 11-year hiatus. However, her team, the Mahooshka's did not fair so well as they played shorthanded in their new division, losing five to the Bayview Bashers. (formerly Bikini Bottom All-Stars) Bernie was seen with Captain America and Kerry, who played awesome! Now we have to get ready for the real tournament this summer.
Donna "Let it Ride" Maroney played so well because of her windfall at Foxwoods. It was in the thousands! She is so happy that she is planning to throw a HUGE house bash at her expense at the end of the season. I am taking names and addresses for the invite list. She is also taking special orders. Remember, if you don't eat meat its lobster!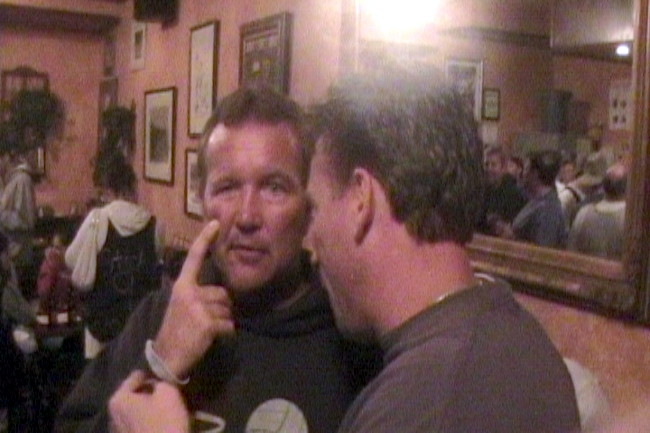 Smitty tells Mike who's number one. Bayview Restaurant and Lounge Bashers!
Who was the Beer Bitch wearing the Last Call shirt? Do you think wearing a bow tie will firm up your position? Chippendales is requesting you to come next Wednesday night and would like you to remove the sock. Do you hold up umbrellas for people to keep them from sunburning? As for Gabriella, no call, no show – you are benched! Who said dress shopping takes precedence over volleyball. You are benched too (and you thought Donald Trump was tough)! We are back. The Excavator and the Mauler better watch out for those hands, put them to really good use. George would be very proud of you. Well Brownie, you are going back to Volleyball 101 to learn to play. Team Margarita, welcome and keep bringing the Jug. Hey, team Federation needs some of that stuff. Air Steinberg should we call Queer Eye for the Straight Guy to change your wardrobe next week?
Steve-o is here from Connolly's (what a surprise), picking up where he ended last year. This year he is quite color coordinated or let's put it this way, you can definitely find him in a fog! Connolly's beat Its All Good by 3-2. Mary Morgan is now a contender for the opposing team. What really went down Bugsy? In any event, it was a good way to start the season. Did everyone practice during the winter? It's scary to see everyone drinking so much, so well, so early in the season. Can I get another Coors Light? Excellent plays by Tom, Sean, Laura, Karen, heck, the whole team.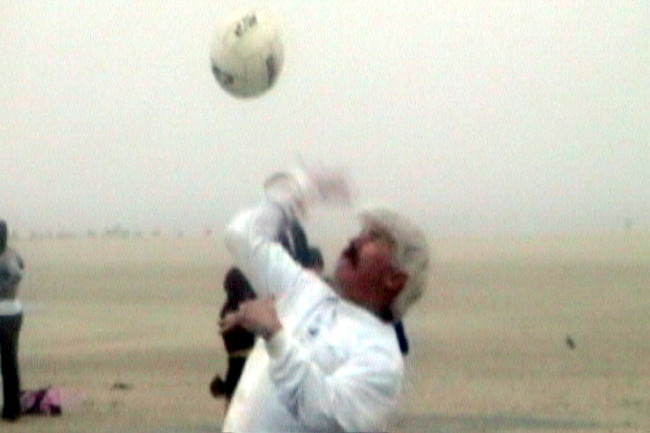 Brendon serve one up to save $1 fine for missed serves.
Its All Better than Good. MIL, SIL and FIL will be back next week, with force. Not to be replaced by TBG and Cement Shoes, who showed great agility in their performance. Do you think that 40 will do any of us in? No says Eddie. Seal, see you in the finals. Mary, Mary next time we will take all 5 from your husband. It may be All Better but TBG is now The BIGGER Guy, having bulked up for the grind of the RBVL season. He's even smoking the bigger 100's now.
The Federation played pretty good considering they lost all five games. A year absence, a year without drinking all together and they still played well. Did you see some of those moves Wonder Woman made? I mean at the bar. She's been thinking about captain Tom Ford during the off-season. You didn't think she could pull some of those moves, did you? Thanks for keeping the spirit alive and hello … she has the first injury of the season!! (after Cubby) She does give her all to the team.
Congratulations to Team Margarita and Amanda who led her team to a 5-0 victory over fellow newcomers, Simon Says Sea Bar. Out of 38 teammates (like they are all going to play) seven actually showed up!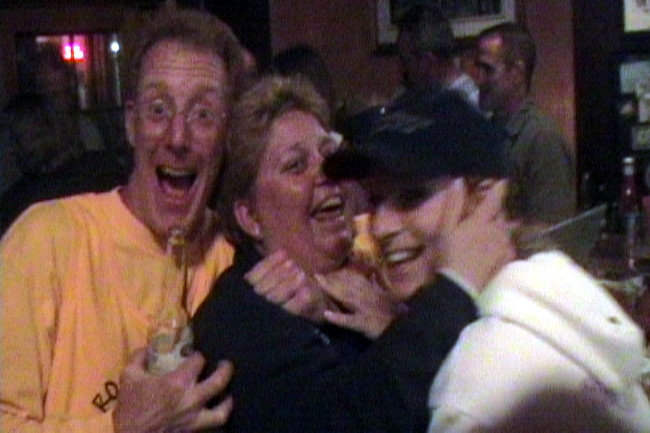 Steve gets physical.
The Suns of Beaches continued an 8 year long tradition by losing all 5 games. Came in last 7 years in a row. We made it to 4th place by some miraculous stroke of luck and a prayer to God knows who. Watch out for us this year.
Sleeping Beauty finally woke up, only to be put back to sleep by a spike at the net. Male or Female? Happy Birthday Michele! A Night Out is finally rising to the top. Finally, 5-0 – Yes!
Team Captain Mike Mc says there are going to be big changes in Simon Says Sea Bar (What bar?) The reason they lost was the players didn't drink enough. But then Simon spells See – Sea!!
One More? Diane there will be volleyball every Wednesday night for the rest of the entire season. Very good serves tonight but you need to lose the sweatshirt. We are hoping Colleen can join us soon. Wasn't it nice that Gerard made up with another renegade pig – oink, oink? Aside from losing his jockstrap at the beginning of the game Joe did just fine and everything fell into place, so to speak. A special message to nemesis (but friends) the Rogue Sharks - HA! HA! Erin, I'll stab your eye out with a red pencil. We did a good job as usual.
The Beach Posse showed up to take 5 games from their opponents who were great sports. Congrats to Chris and family to their newest addition. future Posse player, Sean Patrick. Where in the world is Eileen Dolan? The Maloney family arrived in all of its glory. We are hoping to lay out Steve Gifford this year in musical chairs at the Yacht Club. Thanks to Peggy Johnson, she had a killer game. Looking forward to a wonderful summer.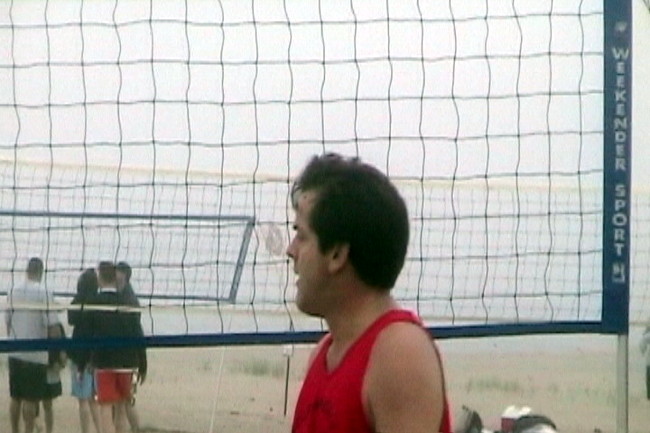 Frank is considering retirement. Here he wonders if its from "The Job" or Volleyball.
Finally, Mary's nephew, Thomas MacDonald would like to help write this article with me but he still has school and is too young to participate in the parties. Once school ends, he will be available to retrieve the balls with his brother Brian for a small price (to be discussed at a later date and time). And what teacher gives these kids homework over Memorial Day weekend? Un-American I say!! (So does his Grandma). Last but not least, we are accepting applications for Cabana Boys (uniforms required, which will be supplied). Must be 18 years or older and then some. For those who are interested please see Mary next week.
Week 1 went smoothly thanks to everyone's cooperation and patience. We'll need even more of that patience next week when most of our veteran referees are unavailable due to an annual outing. We will have some inexperienced refs (many will be HS players), so help us and them out. As you know, the court layouts can change from week to week at Riis Park. Continue to check the bulletin board for the layout of the week and don't hesitate to ask questions. Also, listen for the Human Megaphone, Bugsy who will be barking out instructions to help us along. Keep up the good work, folks. You are what make the RBVL great.
As always, if you have any questions please call Patty Moule at 917-566-2809. (Be sure to call between 10 AM and 9 PM. Remember, Patty has a life outside of VB, too.) Or just check our website at www.rbvl.com. You'll find the answers to most of your questions there, not to mention pretty pictures and funny stories. See you on the beach!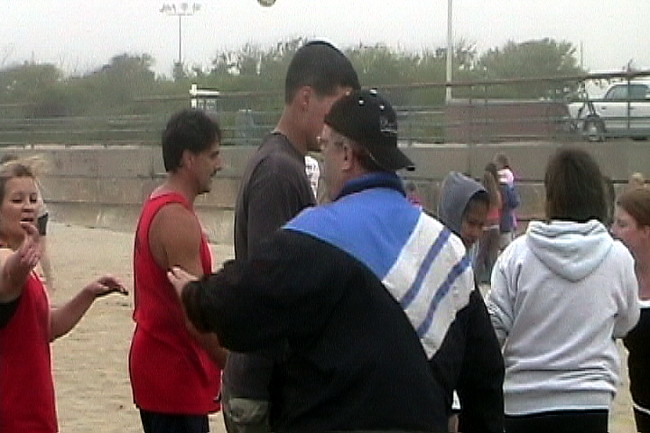 Abbraciemento's welcomes Fillmore to the top division with a 3-2 win.

Brian teaches his sister Trish the Dish how to Bump-Set in Killer Hills 4-1 victory over BHYC.com