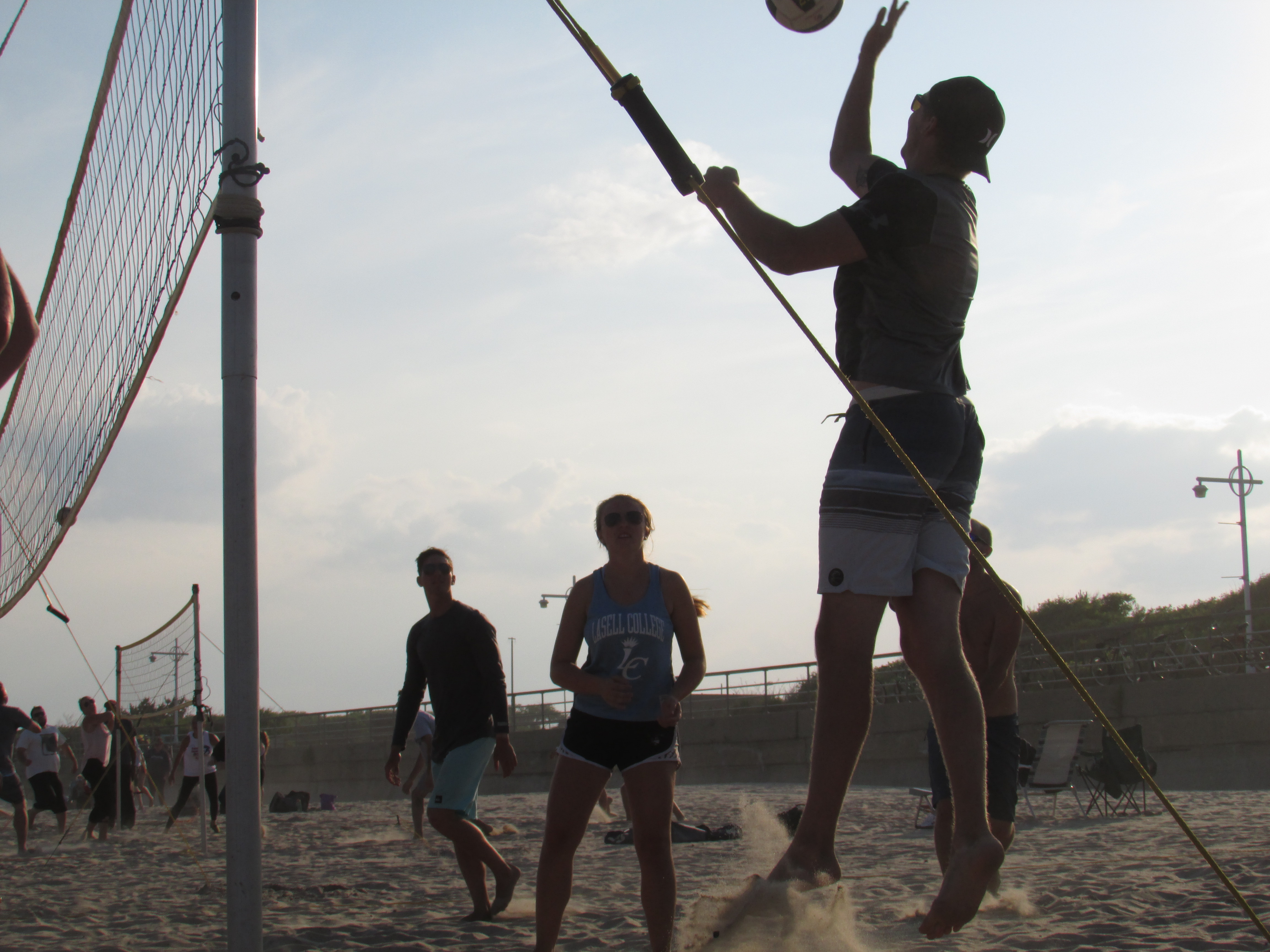 RBVL WEEK 7
Devin Gavigan
The Rockaway Beach Volleyball League had a sunny seventh week of games this past Wednesday evening. A relief from the last few weeks poor weather conditions, the players were more than willing to trade in last weeks long sleeves for tank tops and sunglasses. The sun beamed down on the sand, while the soft winds kept the players cool and comfortable during their matches. Children were running around and playing in the sand, cheering on their parents as the adult supporters took advantage of the sunshine by soaking up the rays while their friends and family competed in the league.
STANDINGS up to date CLICK HERE
schedules posted click here
Once again there was some teams that missed registration. Therefore, so there will be no confusion going forward we suggest you read the following: REGISTRATION RULES
Joe McGivney wants to concentrate all his efforts on playing volleyball. Therefore, after decades of voluntary service, Joe McGivney will be stepping down from the committee. He was insprirational in the making of the league grow to the historic level it has achieved. He will be sorely missed. emails that would normally be directed toward him should now go to:
Steve: irvman331@verizon.net
PLEASE MAKE A COPY OF THIS ROSTER SO YOU CAN HAVE IT SIGNED BY THE START OF LEAGUE PLAY ON THE 2nd WEEK OF REGULATION PLAY.
IF YOU FAIL TO DO THIS YOUR TEAM WILL FORFIT UNTIL ROSTER IS SIGNED AND RETURNED . SEE RULES FOR FORFITS
.
2018 Season Forms
Conact Committee members:
Steve: irvman331@verizon.net,
Patty: psmoule@yahoo.com,
Colleen: cbclover34@verizon.net,
Denise: denisebrunner@msn.com,
John: johnsica@gmail.com,
Theresa: sutterlin1123@aol.com
Forms
Roster Form
Shirt Order Form
Got a complement? see the RBVL Committee Members



Got a complaint? click here
How was your Ref?
let us know:

refs



Show us your team!
Take some pictures of your games and team and email them to

sica@rbvl.com

to get them on the web!

How do you like the league?
Let us know by completing a quick six question form about the league and the the party.